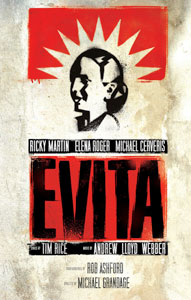 Even though Evita — starring Ricky Martin and Elena Roger — was the top-selling show of the 2012 Broadway season, it closed on Saturday.  Why?  Looking at the show's expenses tells a similar story to other large revival musical productions with big-name stars: there is a very small margin of profit.
The original 1979 Broadway production, which starred Patti LuPone and Mandy Patinkin, ran for almost four years.  In contrast, this revival ran just under a year (46 weeks).  It would have taken at least 63 weeks for the production to break even, though it would have likely taken longer because of declining sales.  Sales were expected to decline even further when Martin opted not to renew his expiring one-year contract and a performer of similar drawing power could not be found.
Even though the show averaged about $1.03 million per week in ticket sales grosses, it still could not recoup investors $9.6 million investment.  That's because the weekly expenses of the production were about $880,000.  Many of these expenses are attributed to the fact that since Evita was a revival, money was owed to the creators of the musical.   These expenses included significant payments to composer Andrew Lloyd Webber's Really Useful Group, which received fees and royalties of about $70,000 a week in addition to an upfront payment of $100,000 (part of the royalty money went to lyricist Tim Rice).  Really Useful also received 15% of merchandise sales. 
Star salaries also were a significant chunk of the weekly costs.  While Martin's base salary has not been disclosed, he received ten percent of the weekly box office whenever it topped $700,000.  That was in addition of the $170,000 per week that the five main cast members received, not counting perquisites.  As a result, the production needed to gross $1.18 million per week for a year to break even — and while it was close, it was not close enough, and likely wouldn't be moving forward without Martin.
So Evita stands as another example of a Broadway revival that didn't turn a profit despite casting a popular (and expensive) lead actor.  It's curious that while sometimes "stunt casting" works for Broadway productions, other times it does not.  Producers will have to continue asking themselves if the investment will bear out.
via Bloomberg