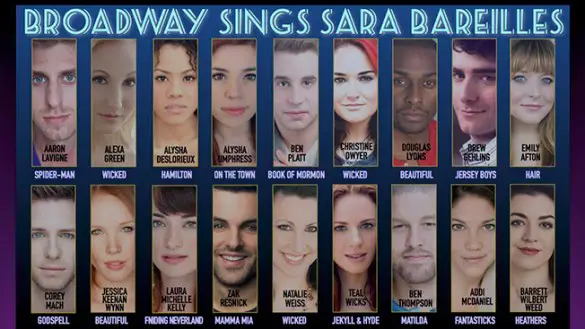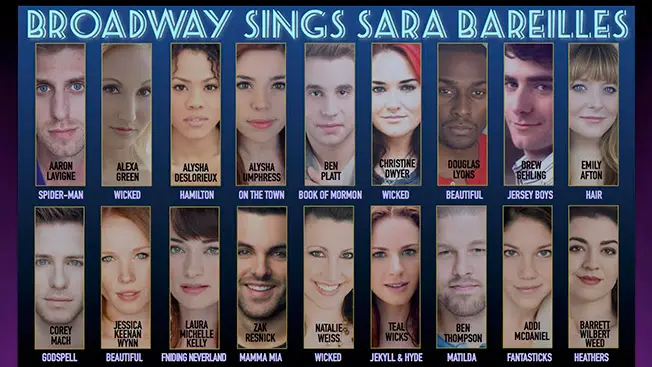 Though it's a dream come true for Broadway performers to sing the same set of songs eight times a week in a smash-hit musical, taking time away from their usual gig to sing the songs of extraordinary songwriters gives them the opportunity to let their hair down on their rare nights off. Since the Broadway Sings series launched in 2011 with Broadway Sings Adele, Broadway fans have had the opportunity to see New York theater stars perform the music of their favorite pop artists. On November 2, Broadway Sings held its ninth edition of the program, a one-night-only, sold out performance featuring Broadway performers offering their renditions of pop singer/songwriter Sara Bareilles' songs at The Highline Ballroom in New York City.
Appropriately, Bareilles' new album, What's Inside: Songs From Waitress, will be released on November 6. The album features the music Bareilles wrote for the musical adaptation of the 2007 movie Waitress, which will be opening on Broadway in April 2016 directed by Tony Award Winner Diane Paulus (Pippin). In fact, performer Drew Gehling appeared in the American Repertory Theater's pre-Broadway production of Waitress this past summer. He teamed with Teal Wicks (Finding Neverland) on a duet of "Love On The Rocks."
The singers were backed by musical director Joshua Stephen Kartes, who led an eleven-piece band and three powerful backup singers, Emily Afton (Hair), Alexa Green (Wicked), and Addi McDaniel (The Fantasticks). Each performer brought a musical theater style to Bareilles' songs. Alysha Deslorieux (Hamilton) sang a forceful rendition of Bareilles' hit "Brave," which was immediately followed by another standout performance by Pitch Perfect star Ben Platt of "Many The Miles." Some singers took wildly creative approaches to the material. Christine Dwyer sang a silky, jazz club-influenced rendition of "Manhattan," and Jessica Keenan Wynn (Beautiful) sang a sexy lounge act version of "King of Anything," which the crowd loved. Two artists also performed medleys of Bareilles' work – Laura Michelle Kelly (Finding Neverland) performed a mix of "One Sweet Love" and "I Choose You," while Zak Resnick (Mamma Mia) sang well-blended renditions of "City Lights" and "Islands." But perhaps no singer had as much fun on stage as Ben Thompson (Matilda the Musical), who sang a very upbeat and cheeky version of "Little Black Dress."
Halfway through the event, Broadway Sings founder Corey Mach performed "Between the Lines" and announced that the next Broadway Sings event will salute the music of native New Yorker Billy Joel, a selection that probably seems long overdue because of Joel's popularity among Broadway performers and aficionados. While a date and location have not been finalized yet, those interested in joining the Broadway Sings mailing list by e-mail [email protected] or sign up at the Broadway Sings website. If hearing world-class Broadwau talent sing unique interpretations of excellent songs sounds like something you're into (and why wouldn't it be?), be sure to sign up!
 The full setlist for Broadway Sings Sara Bareilles:
RANGE (a cappella group) – "Love Song"
Laura Michelle Kelly (Finding Neverland) – "One Sweet Love" / "I Choose You"
Alysha Deslorieux (Hamilton) – "Brave"
Ben Platt (Pitch Perfect, Book of Mormon) – "Many the Miles"
Christine Dwyer (Wicked) – "Manhattan"
Douglas Lyons (Beautiful) – "Hold My Heart"
Barrett Wilbert Weed (Heathers) – "Machine Gun"
Corey Mach (Godspell) – "Between the Lines"
Jessica Keenan Wynn (Beautiful) – "King of Anything"
Ben Thompson (Matilda the Musical) – "Little Black Dress"
Natalie Weiss (Everyday Rapture) – "Stay"
Aaron LaVigne (Spider Man: Turn off the Dark) – "Bluebird"
Drew Gehling (Jersey Boys) & Teal Wicks (Finding Neverland) – "Love On The Rocks"
Zak Resnick (Mamma Mia) – "City Lights" / "Islands"
Alysha Umphress (On the Town) – Gravity