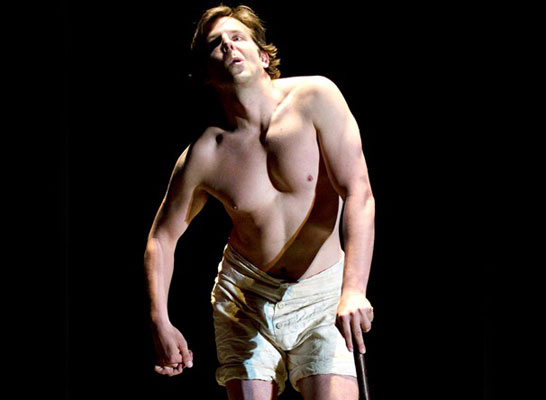 Bradley Cooper is proving to be an actor who wants a career defined by strong work. Instead of solely relying upon franchises like The Hangover, the Oscar nominee is mixing it up again between the big screen and the stage.
Cooper is starring in The Elephant Man on Broadway this theatre season. It's a role he's always wanted to tackle after seeing David Lynch's film adaptation in 1980.
"That," he says, "is was what made me want to be an actor."
To make his 12-year-old kid dreams a reality, the American Hustle star headed to grad school for acting after finishing his undergrad degree at Georgetown University. His family was a little hesitant about his career choice though.
"I'm from a family of practical people," he explains. "My father came from North Philly, and his father was a fireman and a window-washer, and money was a huge thing. He was very nervous that I wasn't going to be able to make a living, especially since he paid for a Georgetown education. So he said, 'Look, man, you can go to grad school for acting, but that's on you.' So I took a loan out."
It was at the Actors Studio Drama School at The New School where Cooper tackled his dream role. Yet even his instructors and school dean, James Lipton, were not quite sure if his choice for a senior thesis was the right one.
To be honest, it was not well-received as an idea [to do The Elephant Man]; they were like, 'Why don't you do something else that's a little more attainable?' But I said, 'Can we just do a reading?' And I remember I tried it out for the first time — what I felt he was like — and then I did a reading, and they approved it, and I was so over the moon that I got a chance to dive into this."
In order to prepare for the role, he headed to England.
"I saved up some money, I booked a round-trip ticket and I slept on the couch of [a friend]," he said.
His father was able to attend one of his senior performances and it was then that Cooper finally received his dad's approval.
"He hugged me, and he was crying and shaking and he was like, 'You're doing the right thing.' It was a pretty massive moment."
Coming full circle back to New York to do the show is a dream come true for The Silver Linings Playbook actor.
"This is something I love so much," he says. "When I first did it in grad school, it was all about the breathing and the physicality, and I gotta tell you, I didn't even know what the f— I was saying, honestly, when I look back at how I delivered the lines." He continues, "At Williamstown I was more at ease with it, but I think it was me just being in love with the fact that I was doing it again. But this time, I don't think about the physical, the voice, the accent — nothing. It's all about being him."
The Elephant Man runs for 110 performances at the Booth Theatre.