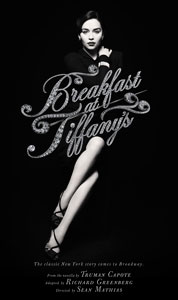 I blame the diva-like behavior of the cats.
After playing 17 preview and 38 regular performances, Breakfast at Tiffany's will play its final performance this Sunday (April 21st) at 3 p.m. at Broadway's Cort Theatre (138 W 48th Street). 
Breakfast at Tiffany's began previews on Monday, March 4th and officially opened on Wednesday, March 20th.
Directed by Sean Mathias, this stage adaption of Truman Capote's classic novella stars Emilia Clarke (HBO's Game of Thrones) in the iconic role of 'Holly Golightly,' Cory Michael Smith as 'Fred,' and George Wendt as 'Joe Bell.'
Based on Truman Capote's most beloved masterwork, Breakfast at Tiffany's is set in New York City in 1943. 'Fred', a young writer from Louisiana, meets 'Holly Golightly' (Clarke), a charming, vivacious and utterly elusive good-time girl. Everyone falls in love with Holly – including Fred (Smith). But Fred is poor, and Holly's other suitors include a playboy millionaire and the future president of Brazil. As war rages on in Europe, Holly begins to fall in love with Fred – just as her past catches up with her.
The cast of Breakfast at Tiffany's also includes Suzanne Bertish, Danny Binstock, Pedro Carmo, Elisabeth Anthony Gray, Murphy Guyer, Eddie Korbich, Paolo Montalban, Kate Cullen Roberts, John Rothman, Tony Torn, Lee Wilkof and James Yaegashi.
The performance schedule for Breakfast at Tiffany'sis as follows: Tuesday at 7 pm, Wednesday at 2 pm and 7 pm, Thursday at 7 pm, Friday at 8 pm, Saturday at 2 and 8 pm and Sunday at 3 pm. Tickets range from $37 – $132, and are available for purchase in person at the Cort Theatre box office, online at www.telecharge.com, or by calling Telecharge at 800-432-7250 or 212-239-6200.