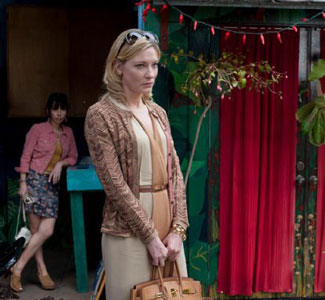 Cate Blanchett was just nominated for her sixth Academy Award for her performance in Woody Allen's Blue Jasmine. She plays a woman on the verge of a nervous breakdown after her husband leaves her for a younger woman.
What's interesting about the Australian actress is that she has been largely absent from most of the awards show campaign season because she's been busy working in the the theater. She talked to Robert Siegel of All Things Considered about how she bridges her work in the theater with her work on film.
The 44-year-old star explained, "I've been very grateful I've been able to move between the two forms, because they're not diametrically opposed; I think they feed each other. You know, you do have a self-awareness as an actor. That's what you bring from the theater, is that you're very aware that you have to hit that light, whilst also talking about the fact that you've lost your children and you know that someone is answering their mobile phone in Row G, and that someone else is opening a lolly wrapper in the back of the stalls."
Blanchett understands how her work is affected by having this necessary presence while acting for the stage.
She continued, "And so you have all of these awarenesses, and it makes you fearless, in a way. Because you can tell whether something is living or dying when you're on the stage, and you can do something about it."
It's that connection that keeps Blanchett going back to the theater because film sometimes doesn't have the same effect.
"I think sometimes when you're working consistently in film, and maybe this is just me, but you do feel quite dislocated from your audience. I was acutely aware of the audience in the cinema when I was doing Jasmine. I don't know whether that was the pace itself or whether that was just my recent experience," said The Aviator star.
Blanchett is considered a frontrunner for the Oscar against a strong field of veterans like Amy Adams, Sandra Bullock, Judi Dench and Meryl Streep. The Academy Awards will take place on March 2 in Hollywood, California.