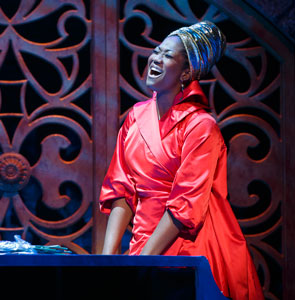 When artists say they will do what it takes to get the job, most actors are talking about being prepared in that audition room. For one Broadway star though, it meant leaving home, couch surfing and a bout of homelessness.
Amber Iman just made her Broadway debut playing legendary jazz singer Nina Simone in Soul Doctor. However, getting to the Great White Way wasn't that easy.
After graduating with a musical theater degree from Howard University, Iman dismissed moving to New York because fellow alumni who made the move before her "ended up working at Starbucks!"
Her boyfriend was the one who inspired her to make the move to the Big Apple.
She shared, "He said, 'If you don't leave for New York, I will break up with you because I don't want you to resent me and have any regrets in your life.' "
While those words resonated with her, something else happened.
The Broadway star laughed, "The funny thing is, he left first. He had a cruise-ship gig. So I thought, 'Now I really have to go!' "
Her mom helped her with relocating to an apartment in Harlem where she had a difficult roommate. On the day of her first important audition for the Off-Broadway show Rent, "she warmed up for the audition one 28-degree morning singing "Seasons of Love" while sitting in a park, swathed in blankets."
Sitting out in the cold was actually easier than listening to the complaints of her roommate.
However, the apartment situation was to be short-lived. A gig with Lauryn Hill in Europe saved her for a few months until she found herself homeless in New York upon her return.
After couch surfing for a bit, she found herself with a job in Rent. Her sublet wasn't expected to begin for another five days, so she called the New World Stages theater her home in the interim. A cot in the women's dressing room and the showers there was all she needed.
The 27-year-old wisely stated, "I was safe, I wasn't cold. Hey, you do what you have to do."
Those early struggles in New York set the stage for her Cinderella story a year later. She was cast as the understudy for the Nina Simone role until the lead dropped out and the part was hers.
It sounds like the beginnings of a Hollywood movie.
For tickets to Soul Doctor, click here.
Via the New York Post