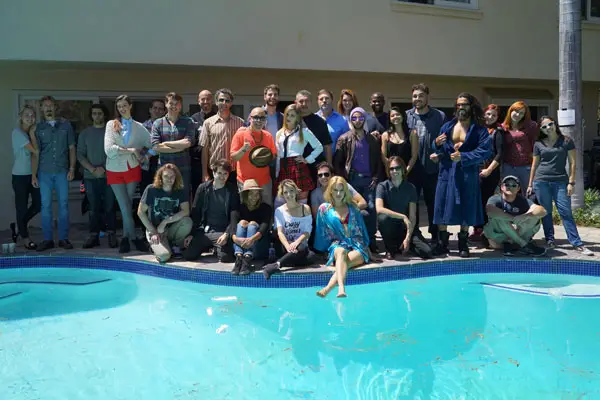 On February 10 we had a premiere showing of our comedy web series "Behind the Blinds AKA Filmmaking 101". We are lucky to have received positive feedback from people we think highly of.
However, some doubted 6 days was enough for the amount of content we needed to shoot. Frankly speaking, we were also a little bit concerned about that. But with the cast we took on board we did not have any chance of failing. We are really proud of our team and would like to share how it was created.
To make it work we took extra time to find the right people for the project. We used both recommendations from actors we had worked with before, and all available online platforms. Breakdown Express and CAZT ended up being most useful for us. We had quite a lot of people to cast and went through a considerable amount of actors' reels. So, here is a tip for actors: the best reels go straight to the point without lengthy introduction.
As any other directors we expect actors to be prepared for an audition and have a specific take on the character. But we also encourage them to be themselves during auditions. If we invite someone, it means we liked that actor the way he or she is from what we have seen. This is an advantage to be taken.
Also, we are more likely to remember actors who make bold choices rather than safe ones. Even if those choices are not necessarily right for the part we always have a second take to adjust that.
We always try to have as many rehearsals as we can in pre-production. We believe it to always be a huge time saver as the time spent in rehearsal is dedicated to exclusively discuss scenes between the cast and the directors, and for the cast to contribute their own ideas to the characters. As a result, the directors are on the same page with cast when we start shooting. This saves us a lot of time and helps to avoid discussions on set.
The most challenging from this perspective was shooting the table read scene, where we had 17 characters, all with dialogue. It became a nightmare when we had to think about how to shoot it, and we only had four hours to do it. Thankfully, the whole cast was really on top of it and delivered perfectly on every take.
Team spirit can really make a difference on the energy of the entire production, as well as the promotion of the project. We tried to make our cast as included into our team and process as possible, and we have to say we are particularly grateful for the way our cast on "Behind The Blinds AKA Filmmaking 101" has been involved with the project.
The highest level of inclusion the cast and crew has shown was when we shot all the 8 lunch scenes in a row. By the time the actors were having long-anticipated steak, they couldn't eat anymore. So some of the crew was happy to sneak in and help the actors.
We were very lucky to have an incredibly committed cast on "Behind The Blinds AKA Filmmaking 101". They were always willing to collaborate and respond to feedback without question. They were very flexible with their schedules to help us accommodate the fact that there were 17 of them – which sometimes meant they would have to wait for long hours in between scenes to make the schedule come together. They delivered strong performances consistently, which allowed us to do fewer takes than most productions and shoot the series in 6 days. You are very welcome to see it here and subscribe to our channel.
Written by film producers Anna Skrypka and Charles Ancelle