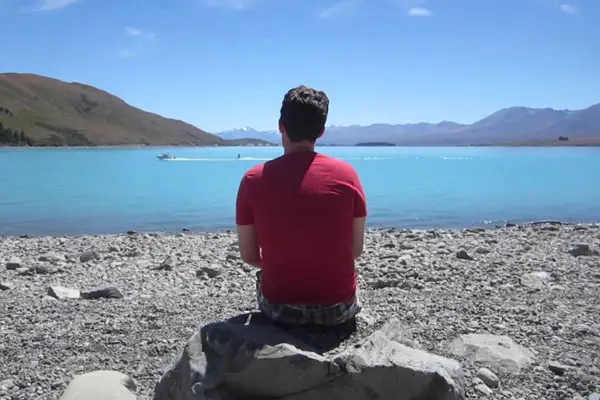 As actors, we're tasked with living truthfully under imaginary circumstances. We draw upon life events to help us tell a story. Sometimes these experiences can be joyous, like falling in love for the first time, but sometimes they can be painful, like losing a family member. When I was confronted with the latter experience, I went to the ends of the earth to find peace. The result was my comedic feature film, Kia Ora.
There are a few things worse than having to say goodbye to a parent. The last time I saw my father was days before Christmas. He passed away unexpectedly 3 weeks later at the age of 57. He wasn't just a parent; he was also the one who encouraged me to pursue a career in acting. I've never been challenged more as an actor than when I had to stand behind a pulpit and deliver a eulogy to a room full of family and friends. I had to smile while I was falling apart inside. If ever there was an award given for "best inspirational speech," I would have won it.
I believe we are a sum of our experiences in life, and we carry them around with us wherever we go. As an actor, this is a blessing and a curse. We are always in touch with our feelings and emotional experiences. Six months after my father was laid to rest, I knew I had to do something to help me move on. I was stuck on emotional repeat, reliving my father's loss over, and over again.
So, I decided to follow Carrie Fisher's advice. "Take your broken heart, make it to art." I booked a 2-week trip to New Zealand as an excuse to get away, and to create a film that would help me heal. I envisioned a story that paralleled my own. A character named Ryan sets out on a journey to New Zealand to throw away a symbolic token of his grief. Except, I would be leaving my depression behind instead of a house key.
This wasn't my first time producing a project, but this was fundamentally more challenging. I couldn't scout locations beforehand or develop a shooting script. There were too many variables outside of my control. I took a leap of faith and committed to this trip regardless of the obstacles I would encounter. This film needed to happen, and to make it work I had to draw on every skill in my actor's toolbox.
The filming took place on 2 islands and in 15 cities over a 14-day period. There was no time for reshoots or pickups. If something didn't work, the scene was replicated in a different city. I drew on locals to help move the story along. The cameraman, Roman, also became a character in Ryan's story. Every day was another surprise or opportunity to improvise dialogue. It's been said that great comedies come from both truth and tragedy, and for Kia Ora, there was plenty of that to go around.
After arriving in Auckland, I began driving through the countryside. I found it far too easy to get lost in the beauty of where I was. At times, the film became a footnote to my own adventure. I felt like Frodo leaving home for the first time. I had an unwavering optimism and a determination to make this journey worthwhile. I was able to experience Hobbiton in person. I spent Christmas exploring Downtown Wellington. On the South Island, I made sure to hit every site recommended to me, with glaciers, mountains, and lakes all making the list. My last two days were spent in Queenstown, a place that took my breath away. I was so wrapped up in this film being the end of something, I never thought about it being the beginning of something else – a new chapter in my life.
When I returned home, I started assembling the footage. I realized I needed to bookend the film with pre-trip, and post-trip, scenes, so I enlisted the help of my closest friends and together we completed this epic feature film. I settled on the title Kia Ora, which is a Māori greeting in New Zealand that means "be well/healthy." It spoke to the heart of what the film was. It was a story of healing and moving on.
J.R.R. Tolkien said it best when he said, "It's a dangerous business, going out of your door. You step onto the road, and if you don't keep your feet, there is no knowing where you might be swept off to." I would encourage anyone to take a risk and see where it leads you. I'm glad I created a film that captured this moment in my life. I'll always be able to look back and appreciate how I was able to turn my pain into something beautiful.
Russell Nauman is an actor who decided to take a 2-week trip to New Zealand to shoot a feature film that helped him grieve for the loss of his father.