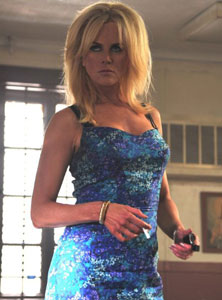 Nicole Kidman's role in Lee Daniels' new film, The Paperboy, has already received a lot of press—mainly for her character's rather risqué behavior.
"I wanted something raw, and I wanted to work with a director who was going to access something different in me," Kidman told The New York Times about Daniels (who is most well-known for directing Precious.)
The 45-year-old certainly got her wish.  The film includes a by now already infamous scene where Kidman's character urinates on co-star Zac Efron in order to treat a jellyfish wound.  "You just go for it," she said.  "I think we did three takes, but it felt like a hundred."
The Oscar winner has reached a point in her career where she searches for roles that will fulfill "the desire to study the human condition, the desire for collaboration, to learn and absorb, and to lead a well-examined life."  She added, "I've worked hard to get to this place personally.  I don't take any of it for granted.  I cherish it."
Now that the actress has a full family life (daughters Sunday, 4, and Faith, 19 months) with country singer Keith Urban, Kidman is more reluctant to take on projects that will take her far from home.  "I'm more than willing to make those sacrifices because, when I'm 70 and 80, I want my family around me.  I know other things can come into play about that, but it's certainly not going to be because I didn't show up."
The Paperboy will open in limited release on October 5.