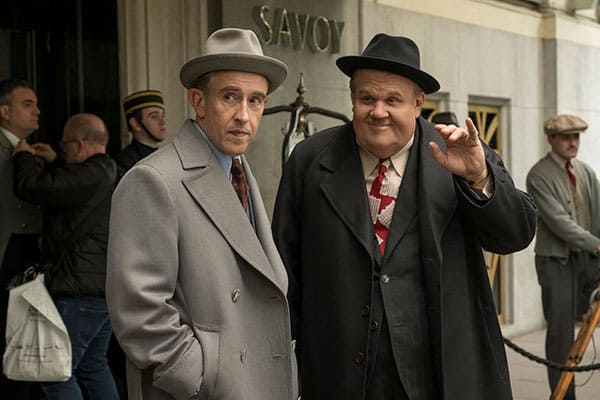 "I could do an impersonation of him, but I didn't want the role to be a superficial facsimile" – Steve Coogan
One of the most acclaimed films that was released at the end of 2018 was Stan & Ollie, a biopic about the later years of the iconic titular comedy duo Stan Laurel (portrayed by Steve Coogan) and Oliver Hardy (portrayed by John C. Reilly). Many reviewers have commented on the astounding physical transformation through makeup that the two leads underwent to portray Laurel and Hardy. Coogan spoke to Collider about not only about the makeup but also the other aspects that went into getting into character.
When talking about doing justice in playing Laurel, Coogan explains that he wanted to avoid a straight imitation of the comedy legend. He says:
"I could do an impersonation of him, but I didn't want the role to be a superficial facsimile of who Stan was. I wanted to do him justice. I wanted to make sure that John and I were well-matched in what we were doing, and that we built up a trust and a friendship to help us with the roles. I was anxious about it not having depth. Impersonating someone is quite useful sometimes, but it can be fraught with danger and only skin deep. I was anxious about that, and wanted to make sure that wasn't the case. The other thing was the physicality, but I knew that if I put the work in, I could get that right. There's a great clown advisor, called Toby Sedgwick, who taught us tips on how to move, gestures, physicality, and dancing. Once we were off to the races, we knuckled down and I thought it was doable, especially with John. When you've got a good partner, then you've got a job halved."
Something that helped Coogan tremendously in re-creating Laurel's roles in the duo's bits was a strong working relationship with Reilly since both of their portrayals had to be spot-on to make the performance work. He reveals:
It's a skill, and you're trying to emulate their skill. When they made their films, Stan was the brains behind the operation. Oliver did make a contribution, but Stan wrote most of them and directed a number of them. They had to make it look effortless. It's very hard, especially when you're doing a dance routine. You have to learn it, and then slightly unlearn it. You have to throw it away a bit. You have to learn it mathematically and musically, with discipline, and then you need to make it a little more ragged. The skill and the hard work is making it look effortless. When it just looks accidental, that's through rehearsal. You rehearse, and rehearse, and rehearse. We actually had nearly a month, before the film started, where we had to do dance routines, and practiced gestures and physicality. We'd all talk to each other. Every day, we dressed up. We got to know each other and got to know the characters a bit. The way we rehearsed the dances, in some ways, was exactly the way Laurel and Hardy would have rehearsed the sketches and the dance routines.
Though it's more noticeable to see that Reilly is wearing prosthetics to portray Hardy — particularly his large fat suit — Coogan also had significant makeup on for the role, including "a false chin and two false tips on [his] ears." On how the transformation helped him get into character, Coogan says, "The clothes and everything certainly does make you feel different. It definitely helps. John and I would look in the mirror and think, 'Well, we're not John and Steve anymore. We're Stan and Ollie.' You see someone else staring back, and you go for it."