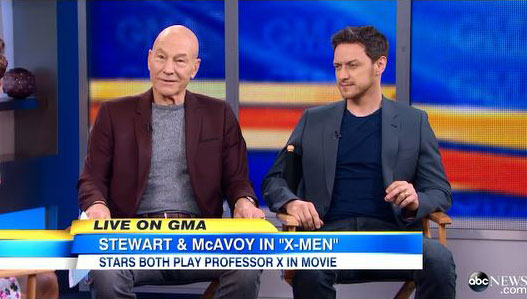 The summer blockbuster season is here and one of the most eagerly anticipated films is X-Men: Days of Future Past. James McAvoy, who plays the young version of Professor Xavier, talked about what it is like to be a part of a huge franchise and to share a role with Patrick Stewart to Good Morning America.
When X-Men: First Class was cast, McAvoy had some wrong assumptions on how his character would look based off of Stewart's bald head.
He shared, "I had showed up on the first day of X-Men: First Class, and I had shaved my head because I wanted to check what it looked like about a month before we started shooting — and it looked quite good — and they were like, 'No, no, no, no, we want you to have long hair.' "
His misstep resulted in 15 hours of hair extensions for the first film and 18 hours for the second film because Professor Xavier sports longer hair. However, the physical looks of the role weren't the only thing the Scottish actor took into consideration.
To mirror Stewart, McAvoy revealed, "I watched everything that Patrick has ever done, starting with the earliest things I can find on YouTube."
Stewart even returned the compliment about the younger star's research by telling GMA, "In this movie, there were moments when I saw clearly Professor Xavier in James, but there were even creepier moments when I saw Patrick Stewart, especially in profile, in James' profile."
X-Men: Days of Future Past opens on Friday, May 23.