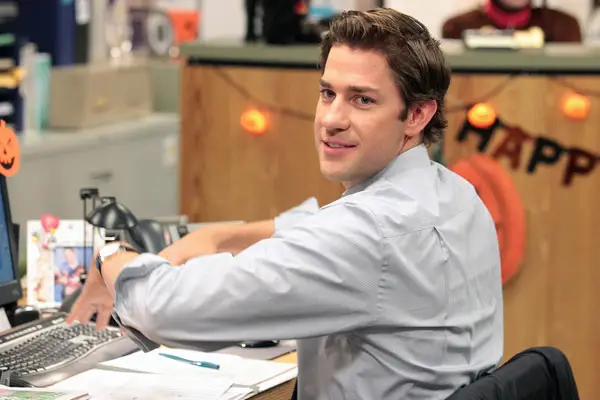 John Krasinski might have played Jim Halpert for nine seasons of the U.S. version of The Office, but he almost didn't get the opportunity because he was a bit too honest about his love of the UK original… and he didn't realize he was sharing his concerns with the executive producer.
It's a hilarious story, and Krasinski shared it during an interview with NPR. Check it out below:
I was sitting in line, it was bit of a bizarro, alternate universe feeling, sitting next to six other people who looked exactly like you. And we were all going in for the role of Jim, and they went through the line of the six guys and I was the last person, and the casting director came up and said, "You know, we're just going to take a break for lunch." … So I watched, you know, 50 to 60 people leave the office.

They went down to the restaurant, came back up with salads and sandwiches, all these people came back and one guy sat across from me and said, "Are you nervous?" And I said, "Oh no, you either get these things, or you don't. What I'm really nervous about is them screwing up a perfect show. The Americans always have the ability to screw up these amazing British shows and I'm afraid this is going to be another one of them."

And he said, "Oh great. I'm Greg Daniels, I'm the executive producer." And I genuinely almost threw up right on his shoes. … He later said, "Honesty is the best policy. It's the reason you got the role."

I think he's still just being nice. I won't dare try it again by going into auditions now saying, "I think this movie's going to be horrible," and then see if they give me the role.