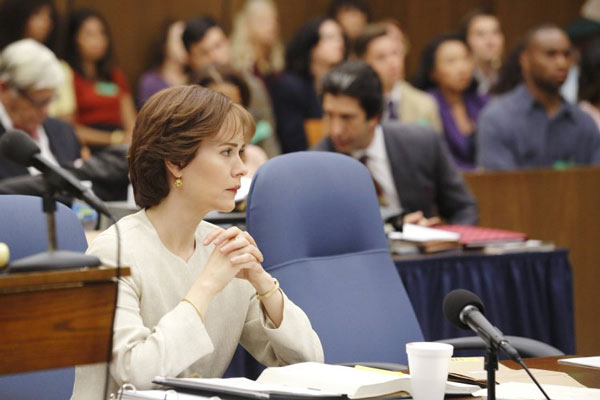 "I wonder sometimes if being in the Ryan Murphy world — in that I get to play so many different types of characters within that one TV show — that there really isn't time to sort of typecast me as one particular kind of thing." – Sarah Paulson
American Crime Story: The People Vs O.J. Simpson is currently taking the world by storm. A dramatization of the trial which saw Hall of Fame Footballer O.J. Simpson acquitted of double homicide, the show has got people talking once more about each and every event surrounding not only the case, but the show itself, as well as the actors who portray these real-life characters.
Sarah Paulson takes on the role of Marcia Clark, chief prosecutor. Back in the day, Clark came under heavy scrutiny and indeed, criticism, for her appearance, mannerisms, dress code…you name it. Paulson can easily identify with the pressure Clark must have felt, since her own private life is often the subject of much media gossip and speculation, but when playing the role of Clark, Paulson says she merely focused on getting the character right; her mannerisms and so on, rather than seeking to correct the preconceived notions people have of her. Paulson also notes how important the truth is when portraying real-life events, but as she rightly points out, there must be elements of her performance that are left up to her acting skills, since no one can know everything.
"I think it's of paramount importance (to be truthful), and at the same time it is a television show and it is a dramatization. There is no way to know exactly what Marcia Clark was feeling … and how she cries privately, and there are many, many things that cannot be known. … I just sort of have to kind of get behind knowing that the bulk of it is all true, and the moments that cannot be known — except for by the people that were actually there and lived it — that's where the acting comes in and the clever writing, at least you hope. I think the whole thing in general — everything was incredibly well-vetted and all of that."
"I read, watched and listened to any and everything I could get my hands on. The good news is there are copious amounts of videos on the Internet where I was able to watch a lot of her physical [mannerisms]— her carriage, the way she used her hands, the way she spoke, how she often tilted her head to one side, particularly in the courtroom when she was addressing the judge, the defense team or the jury. I read her book, I read [Christopher] Darden's book [In Contempt], I read [Jeffrey] Toobin's book [The Run of His Life], and of course I read our scripts, which was probably where I ended up holding most closely that stuff."
"The more I read about her, the more I knew about her, the more I just wanted to get it right. That was my primary concern, was just to get it right — and by right I mean just for it to be authentic and truthful. I wasn't really looking at it as a way of trying to correct any perceptions or misconceptions about Marcia, I just wanted to try to do it in an honorable and a truthful way."
Most will agree she has done an impressive job; The People Vs O.J. Simpson seems to have pulled incredible performances out of a number of high profile actors (John Travolta, David Schwimmer) and will surely be recognized when awards season comes around again. Paulson herself is something of a Ryan Murphy darling, the showrunner of American Crime. She has appeared in all five seasons of Murphy's anthology series, American Horror Story, playing conjoined twins Dot and Bette in season four, American Horror Story: Freak Show.
"Essentially, it was all done on a green screen and I would come in in the morning and prerecord my dialogue, because often the twins were speaking telepathically to one another and I wanted to be able to hear my own voice in my head. So I would record it and then wear an earwig so that I could talk to myself. I didn't want to have another actress off camera reading that didn't sound like me and didn't sound like my twin. It was a lot of lonely work, where I would have to look at a piece of tape and imagine my own head there. I never was able to look in anyone else's eyes to play a scene with myself. … It was incredibly challenging and very, very technical. And everyone who ever did a scene with me on that season of Horror Story was always bemoaning the fact that they had to work with me because it meant their day was infinitely longer because it was just take after take, and we essentially had to do everything twice."
While Paulson describes herself as "sexually fluid," she also thinks that her admission hasn't necessarily impacted on her work as it has with other actors, since the variety of work Murphy hands to her, stops her from being defined as any one type of character.
"I wonder sometimes if being in the Ryan Murphy world — in that I get to play so many different types of characters within that one TV show — that there really isn't time to sort of typecast me as one particular kind of thing. I'm not a sex symbol, I'm not … your typical movie star. And so I wonder if I've been sort of protected from having to worry about it preventing me from working in a way, because the public doesn't really have a particular attachment to me being one type of thing."
Whatever the reason, it's surely good to see Murphy encouraging Paulson to tackle a wide variety of roles and while she keeps bringing these excellent characters to life, we'll keep watching.
Source: NPR