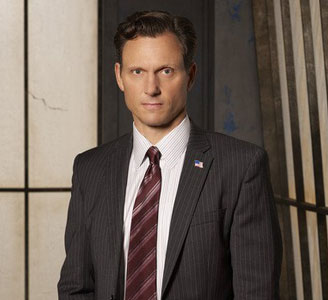 Tony Goldwyn has tons of female fans lusting after his character, President Fitzgerald Grant, on ABC's much buzzed about Scandal.  But his wife isn't one of them.
"It's a problem," he joked while appearing on Bravo's Watch What Happens Live.  "The honest answer is, my wife doesn't watch it.  She watched the pilot and thought it was great, but yeah…I don't encourage it."
His acting also goes unappreciated by his two daughters.  "My two girls think it's hilarious," he said, as reported by The New York Daily News.  "Disgusting and hilarious.  So they send me all kinds of rude texts."  His 18-year-old once sent him a text saying "Excuse me?!" after he tells off Kerry Washington's character after having sex with her. 
Goldwyn assured everyone that he never worries about getting too caught up in the moment.  "Well, if you think about doing a sex scene with 30 overweight men starting at you, it's hot," he kidded.
It's also difficult when Goldywn directs episodes of the show.  "The most embarrassing one for me was when I had to direct my own sex scene," he admitted.
Scandal just ended its second season last week.