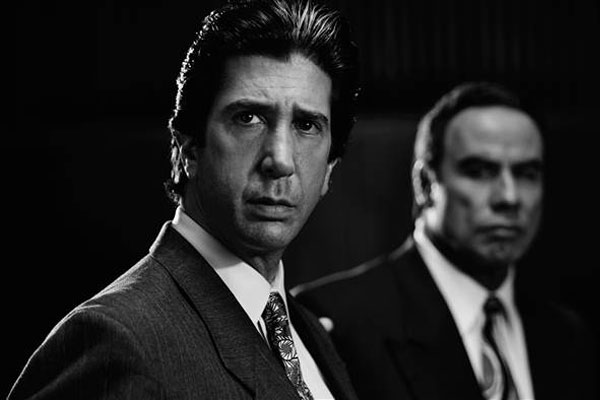 "I didn't know who he was, and I needed to do my homework" – David Schwimmer on Playing Robert Kardashian
FX has scored yet again with American Crime Story: The People v. OJ Simpson. Former Friends' star David Schwimmer stars in the show as Robert Kardashian and recently talked to Vulture about how he prepared for what may very well be his second role of a lifetime.
It's clear Schwimmer doesn't read the headlines because he was oblivious to the man he was going to eventually play. "I thought it was incredibly well-written, and I was intrigued by who Robert was because I really didn't know anything about him. That's why I was hesitant. I didn't know who he was, and I needed to do my homework."
He added that "it seemed to be centered around his faith: his faith in God, his faith in O.J.'s innocence, and his faith in his own friendship with O.J. And once I realized that was the journey — and it comes to a point in episodes seven and eight where he has a crisis of faith, and he's suddenly uncertain about everything — that, I thought, was really moving to me. I also thought it was really interesting that Robert is the only person who has nothing to gain. When I heard Ryan [Murphy, the creator and director] say that, I realized that's extraordinary. He basically put a year of his life on hold, if not more, and was thrust inadvertently and unwittingly into the public eye. He lost a lot of friends and a lot of colleagues over the process of this trial. It was a great loss that Robert incurred from doing this, but he did it for very personal, I believe, reasons of faith. There was no upside, nothing for him to gain, like the rest of the lawyers. This was a career-making case for all of them. For Robert, he just felt that he had to be there for [O.J.]"
Knowing very little about Kardashian, Schwimmer started to watch interviews and read all the material he could. "I wasn't trying to mimic him ever. I was more interested in his essence, his spirit, and what was really guiding him and motivating him. That's what I was focused on."
"There is a lot of material," he went on to say. "There's almost an overabundance. I didn't read Chris Darden's books, or Marcia [Clark]'s. I took a peek at some other books, but Jeffrey's was the most important to read, which I read twice. For me, a lot of my research was done online — any article that referred to Robert or in which he was quoted. Any interview he ever gave, including his Barbara Walters interview, the archival footage of the trial, and the footage of his reading the suicide note. Those were all great and very informative. But the single greatest help was my conversation with Kris Jenner, and just hearing from her who he really was as a man, as a father, as a husband, what his character was like. That was hugely influential."
American Crime Story: The People v. OJ Simpson airs on FX Tuesday nights at 10pm.