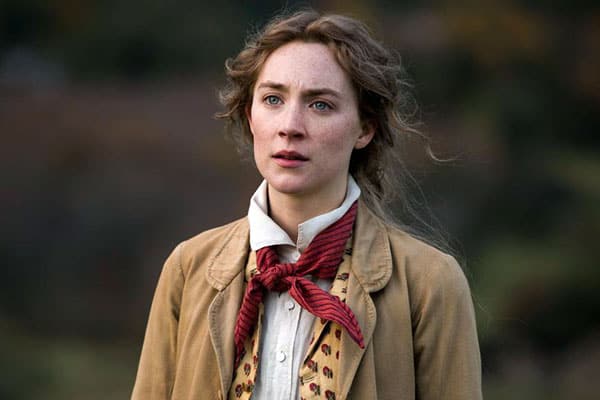 "You just follow your rules and you find the thing that works—for me anyway—and you try and hit that as much as you can" – Saoirse Ronan
Oscar-nominated actress Saoirse Ronan is only twenty-five years old, but she has been an acclaimed actress for nearly half her life. She even earned an Oscar nomination (her first of three) for her first major role in 2007's Atonement. Her latest acclaimed performances have come in roles working with director Greta Gerwig, in 2018's Lady Bird and 2019's Little Women. In an interview with Deadline about her performance in the latter film, Ronan spoke about how her comfort level with acting has changed over the years and why she thinks of her performances in a similar way to approaching music.
Though Ronan confesses that she never truly feels confident about her performances, she does say that acting has become like an "instrument" to her and that she has learned how to adapt her acting to different performances. She explains:
I don't know if you've found this as you've gotten older and more experienced in writing and stuff, but there's something amazing about never feeling like you're all that and always going into something like, "What if I forget how to do it?" I've always worried that I've forgotten how to act, and definitely never felt like I am the best at the thing that fuels me. But there's also something really brilliant about getting to the stage where you're like, "Oh, I have this."

As an actor, it's like an instrument now. It becomes like an instrument that you know how to use a little bit more, and you're constantly learning how to refine it, and adjust it and tweak it, and that's really cool. When you start to have this natural instinct of awareness of how it all works. But I think you're right, if you felt like you were just brilliant all the time, then you wouldn't bother questioning yourself, and it's that nervous energy that you live off of.
Staying on that "instrument" analogy, Ronan speaks about acting as almost a form of jamming, but also notes that it's important to know the boundaries of a scene or, to use another analogy, a "recipe." In particular, she focuses on her recent work with Gerwig. She says:
I think with anything that anyone is learning how to do, it's just practice, and the more and more you do it, the more you're able to just let go of the rules that you needed when you were starting out. With anything though, whenever you're learning a new skill, you need to have that structure and boundaries. I'm somebody who, I like rules. "What am I needed for, what mark do you need me to hit?" You do that for so many years that you just start to go, "Let me just ease up on this thing a bit."

I follow recipes all the time. I did a cooking course over the summer and I've found since then I'm like, "I'm going to add little bit more of this in, or I'm going to maybe throw some garlic in because I think that might be interesting. I might like it." I mean it's the same with acting. You just follow your rules and you find the thing that works—for me anyway—and you try and hit that as much as you can, and then as you've done that for like 15 years, you're like, "I want to just be a little bit selfish here for a second and try this thing," and it's lovely. It's lovely.

You can't be afraid to play a bum note. "It's all right, I'll bring it back." I think that's why that happened with the director that I love and I trust. I know she loves me because when I was with her, I was able to do things and I didn't have that crippling fear that I would usually have. Like, "What if it isn't right? What if it's not the right thing?" If it didn't work, it didn't work and we tried a different thing and I didn't feel, Oh, she's never going to put me in a film again.