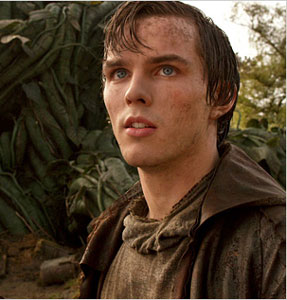 Nicholas Hoult is not a fan of doing press, but after his success in Warm Bodies and his upcoming roles in Jack The Giant Slayer, Mad Max: Fury Road, and X-Men: Days of Future Past, he's going to have to get used to it.
"It's been extremely boring [doing interviews]," he said while doing yet another interview with Collider.com.  "I've been answering the same questions about either Warm Bodies or Jack for days on end and it becomes quite tedious, but it's part of the job.  The good thing about Warm Bodies and this is that they're films that I was very happy to work on and I'm proud of, so that makes it easier, and so far people seem to be responding well to them, so that makes it easier."
It's not that Hoult isn't appreciating his triumphs in Hollywood.  He first came to moviegoers' attention when he made About a Boy back in 2002, and has since won acclaim for his roles in the TV series Skins and the Academy Award-nominated film, The Single Man.  He knows that his current success will only help fuel his career forward.  "That's the main thing about that.  When something is successful it means hopefully it opens up other doors and means you carry on to do things you like and care about, and work with good people."
However, he did face some challenges while shooting the CGI-heavy Jack The Giant Slayer. 
"It's difficult because it's a slower process with the 3D and all the technology so it is a slower process and that can become—you don't get to build up much momentum throughout scenes which can make it difficult," he admitted about filming the Bryan Singer fantasy picture.
But seeing the finished product recently convinced Hoult that the experience was worthwhile.  "I'll tell you that it was a thrill to see the film and the end result, because 50% of what's there on screen wasn't there for us," the actor said.  "So to see it all cut together and what a fantastic job they've done with the effects really made me very excited because they managed to capture some brilliant performances from the actors that played the giants and brought them onto the screen really well."
Jack The Giant Slayer opens in theaters, Friday, March 1.