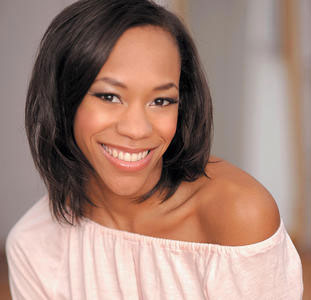 Nikki M. James grew up idolizing numerous Broadway legends, her bedroom a virtual shrine to the icons of the stage. But come Tony night she is not about to let that fact prevent her from fulfilling her dream of walking away with the award,  even if that means taking it away from her beloved Patti LuPone. "She has two, she can share the wealth," laughs the actress.
The 30 year old Broadway star became involved with "The Book of Mormon"  in 2008 while it was still just a one-act sketch being tested by the creators. "I remember thinking, `If they can pull this off, this is going to change the face of the American musical,'" she recalls.
James has dreamed of this day since she got her first headshot at age 12, then her Equity Card at age 14.  She admits to not only feeling driven but very focused, "Singularly focused, absolutely."
She grew up in New Jersey not far from Manhattan, a bookish girl with big dreams of the theater and becoming an actress. "What a weird kid I was," she says. "I really was a weird, strange child."
Using $75 of her baby-sitting money for some "terrible" headshots,  she landed an agent, then began to book commercials. To the astonishment of her parents, who had assumed acting was just a passing fad, James began to build her acting portfolio.
The actress never wavered in her belief she would make it. "I never, ever believed that I couldn't accomplish it as a young kid. It didn't occur to me that I was going to audition for jobs that I wouldn't get. I didn't know that it was difficult. And thank goodness, because it is hard. But I keep that little girl around with me a lot because she's much more brave than I am."
"My Mom is my hero," the actress says about her date for the Tony's.  But Dad, who passed away while she was in high school, will not miss out on the magical night. The actress says she can feel his presence every day and points out the nominations were announced on the 12th Anniversary of his death.
"I can't rule out the fact that he had something to say up there for me," James says. "I think that naive arrogance that I had as a 12-year-old is a testament to my parents always telling me that I was the best at everything I did. So my dad gets to travel with me every day. He's like an angel on my shoulder. I'm sure he'll be there."