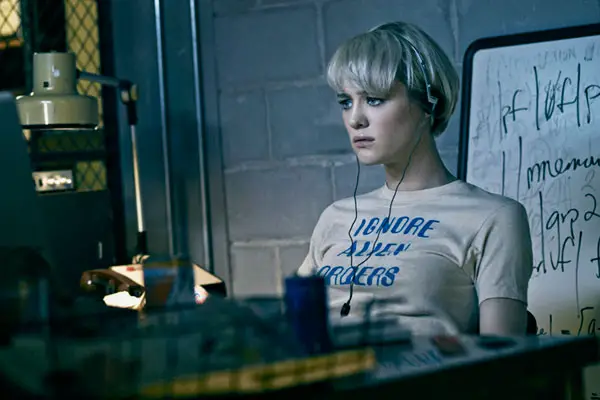 "When I started this job, I remembered looking up "how actors prepare for parts" because I just didn't know!" – Mackenzie Davis
The final season of the 1980s computer era drama Halt and Catch Fire has just begin. One of the standout stars of the series over its four seasons is Mackenzie Davis, who plays the punk-loving coding dynamo Cameron Howe on the series. In a revealing interview with Vulture, Davis spoke about the unique way the primary cast bonded over their roles and why she felt like she was fighting for her job during her first season.
Davis reveals that instead of traditional table reads, the cast of Halt and Catch Fire would have "wine readings" at star Lee Pace's house. She explains:
We didn't have table reads for the show because of our schedule, which is hard, especially because we don't work with the whole cast every scene, so you don't get the whole shape of the episode or pick up on dramatic subtleties if you're working in isolation like that. So we'd go to Lee's house and make dinner and drink wine and just have a table read and bitch about what we needed to. If somebody had to complain, it was really nice, because you got to hear other people's point of views about your character. You'd go, "I'm super frustrated over this!" and they'd go, "That's not how we experience you at all," which can be helpful and not helpful because you're like, "All that matters is whatever this person thinks of themselves." But sometimes it's nice to have a read from somebody without your particular sensitivities for your character voice. It just bonded us so well. We're not from L.A., we don't know anybody, it was super lonely, and then we had this thing every Sunday where we got together, read the script, worked it out, and had a laugh and got drunk. It really felt like we came here in this concentrated theater camp for four months every year and devoted ourselves to this thing and went our separate ways. I think the show would have been so unbelievably different if we hadn't done that.
The atmosphere was a great introduction to the industry for Davis because it was her first major role after a few years of small parts. She admits now that she felt unprepared for the job, explaining:
It was one of my very first jobs. I was so nervous and just such a good girl and so enthusiastic the whole first season — didn't want to get fired, and way overdid how much work I was doing. I was so type-A about it all, and I really just wanted to earn this huge thing that had happened. I learned how I liked to work with directors and other actors. When I started this job, I remembered looking up "how actors prepare for parts" because I just didn't know! The only way you hear about it is from people mythologizing themselves on Inside the Actors Studio or some shit like that, so I didn't really know what my way of working was. My whole first year, I was figuring that out and copying things I heard other actors did. It was really daunting for me, and I felt young. I feel really childish in this world, and I learned how to work and be a professional. I am still not "the best" at standing on my mark, but my own personal taste and point of view has been so shaped and cultivated by this experience that yeah, I feel really indebted to it.