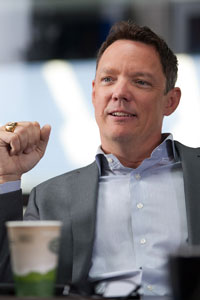 Matthew Lillard might be best known as the current voice of Scooby-Doo's Shaggy after appearing as the character in the two live action Scooby-Doo movies, but anyone who grew up in the mid-to-late 1990s would recognize him from a string of 90s rom-coms like She's All That.
So what's Lillard up to these days? Surprisingly to most, including Lillard himself, he has a small but key role in Alexander Payne's The Descendents.  In an interview with MovieFone, Lillard speaks about his career low points and how he landed a role in The Descendents.
Lillard admits that he's been in some bad movies, but it's not like he purposely seeks out horrible scripts.  He says, "Look: somehow, someway, I got into a bad jag of movies that helped pay the rent and I thought would help further me along. Something like Without a Paddle does really well at the box office and I'm like, 'Oh, here we go.' In Without a Paddle I'm the romantic lead — great! A comedy and that's what America wants. Then it did nothing for me and I went into kind-of a work abyss. I just didn't get another shot."
Nonetheless, Lillard is well aware that some of his choices aren't going to be the next Casablanca.  For example, he points out, "Nobody makes a Scooby-Doo 2 and goes, 'Oh, we're going to make a…' And I don't think Scooby-Doo 2 is a bad movie; I think Scooby-Doo 2 is exactly what it's supposed to be for exactly the audience. It's just that people who are tastemakers are like, 'Oh, I don't want to deal with the kid who was in that movie.'"
Part of the issue is that Lillard seemed to be a supporting actor in almost every Freddie Prinze Jr. movie.  He confesses, "But, you know, it's just that thing where it's like somehow, someway, you get kind of labeled this guy who was in a Freddie Prinze Jr. movie too many. And Freddie Prinze Jr. — it's not his fault, either — it's just these are the things that happen. I'm not a George Clooney; I don't have a ton of opportunities. Even then. Even in the '90s, when I was working a lot. When Summer Catch came along, I begged for that job because I had to pay rent. And if you're third or fourth on the call sheet, you're not getting millions of dollars. It's not like I'm making gazillions of dollars. So you're out there hustling for a job."
Of course, the interview keeps going back to Lillard's role as Shaggy in the two Scooby-Doo movies (which, of course, also starred Freddie Prinze Jr.).  Does Lillard regret taking on the role?  Though he says he wouldn't do a Scooby-Doo 3, he only sees good things coming out of the Scooby-Doo movies, explaining, "I will never look back on Scooby-Doo and say, 'Ugh, I never should have done that.' First of all, the second movie paid me enough money to live until now without having to be a waiter. And for that, I will forever be grateful. And, I liked what I did. I was taking a two-dimensional iconic character and making a real character. It's not like I f*****g walk around like Shaggy. I don't do the voice. I never practiced the voice. So what I created in the character was awesome. If I had created a serial killer that went to Sundance, I would have been hyped. But I created something that was for kids and on a really high level — you know, really goofy and big and broad. It's hard to get thrown out with the bathwater because you're asked to do something on a major studio level. So I don't regret that. But that's where the shift happened. That's where you lose your cool factor. You lose your cool card."
So how did Lillard go from being Shaggy to a major role in The Descendants?  Through what he perceived to be a hopeless audition, actually, while his kids were waiting for him for playtime.  "Knowing that the part is Clooney's wife's lover, it's a waste of time. There is no way that I am this guy. There is no way anyone in the world will let me be this guy. It would be a joke. I walked in the door and I see five Adonises. I see five quintessentially beautiful men… And I'm like, 'I'm not those guys.' I picked up the phone and told my agent that I was just going to walk out. I was told, 'They didn't want to see you. We took this audition time from another actor. You have to go in. We are forcing you in.' So the casting director didn't want to see me in the first place. So you have a choice: disappoint your kids or go in and chase a fool's errand. So I went in and explained my kids were waiting for me and asked, 'Can we just do this?' Like, 'Not to be a jerk, but I'm charming and can show you for 20 minutes and then act? Or I can just do this?' I did and he was like, that's the best audition I've ever seen. And I was like, 'Yeah, but I'm never going to get the part.'"
So how does the guy who has been in too many Freddie Prinze Jr. movies end up still succeeding in Hollywood?  Without bragging, Lillard claims it must be because he can actually act.  "You can't be in this business for more than five years… you're not a real actor unless you can really act. Do you know what I mean? If you don't think you're a real actor, then you're going to get out. If I didn't think that I was a good actor, f*****g maybe I would have melted. But I think I'm a good actor — whether that's a fool's errand or not."
The Descendents opens in theaters on November 18.  It does not star Freddie Prinze Jr.