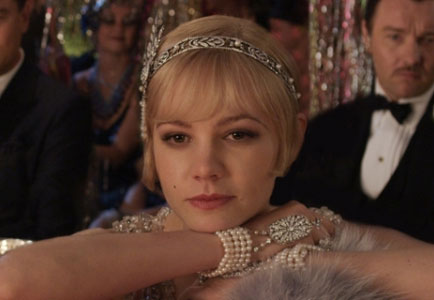 Carey Mulligan won the part of Daisy Buchanan over many of Hollywood's most famous starlets.  But the actress claims one of the best rewards was working with costar Leonardo DiCaprio.
"We were doing a scene right towards the end of the film, and Leonardo was playing Gatsby and he was playing Tom Buchanan and Nick Carraway," she said in an interview with The New York Post.  "So he'd sit in one chair and play his character, then he'd jump in another chair and play Tom, and then be standing up and he'd be Nick.  He was learning all the different lines.  He was incredible."
Mulligan considered herself lucky just to even have auditioned with the three-time Oscar nominee.  "We did a scene where Daisy drops her lighter, and she is panicking, and he picked up the lighter and lit my cigarette and improvised as Gatsby, saying all these things to me under his breath like, 'Daisy, I love you' and 'Daisy, calm down,' and he helped me so much," she recalled.  "We spent about an hour and a half together auditioning, and I loved it.  And I walked out thinking, 'If nothing else ever happens, I've acted with Leonardo DiCaprio.'"
One of the other huge advantages of working on the film was the set design and collaborations with Miuccia Prada and Tiffanys.  "I've never worked on a film that had such intricate detail in the design of it," the British actress said.  "Every time I put on a pair of Daisy's shoes or I wear some Tiffany jewelry—for example, the engagement ring that Daisy has is just this enormous diamond.  Every time I put it on, I feel so different, so…Daisy."
Overall, the chance to play Daisy was in itself the best part.
"She's almost living a movie in her own life, looking in on herself," Mulligan said, "which makes for a rather thin personality that was probably typical of women in her circumstances, and interesting for me to play."
The Great Gatsby hits theaters this Friday, May 10.