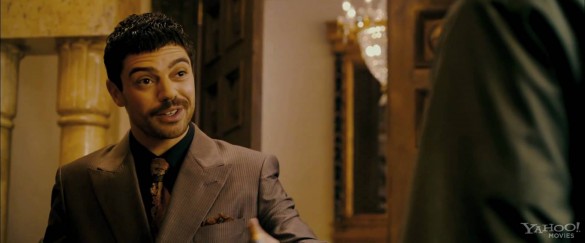 Devils' Double is just days away from making its debut at the box office, opening in LA and NYC on July 29th (it goes wide on August 5th).  The film is directed by Lee Tamahori and judging by the trailer the action drama looks like a must see with actor Dominic Cooper pulling double duty.
Playing two different characters in the film, Cooper, who just appeared in Captain America, is tackling both the on-screen portrayal of Saddam Hussein's playboy son, Uday Hussein (aka The Black Prince), and Latif Yahia, one unfortunate Iraqi army lieutenant brought in to play his body double.  Not an easy feat!
Based loosely on a true story, Cooper's switch from the brutal Uday, and that of Latif, a good guy who gets caught up in the evil world of murder, illegal dealings and more, will be brought to the big screen using new and old tricks of the trade.
Speaking out about techniques and using the same actor for two roles, director Lee Tamahori shared that "there's really no road map for doing these twin-shot movies. You can talk to the technical people about how to do it and we looked at what other people had done, but I was adamant that really the most important thing was to separate the two characters so completely that people would believe they are watching two characters, not one actor playing two parts."
The experience was also new to Cooper, who used different voices to draw a distinction between both Uday and Latif.  To show the difference between his two alter egos Cooper was also suited up with prosthetics, fake teeth and makeup to play both parts.  Sound recordings were also used, so that the dialogue exchanged between the two characters were timely, and believable.
Of course there were times were the cast and crew "we're all shouting at each other," wondering if their ambitious project would be successful, Cooper also shared, calling the experience "fantastic, vibrant" and "very-untechnical."
"The technicalities of it for me were unlike anything I've ever known," Cooper said. "One of the things I find most enjoyable about acting is that ability to react and respond with another actor, to develop and unravel and make a scene progress.  And here I would do it as one character and that would be set in stone. The most helpful thing was I knew all the thoughts going through my head as I was acting it the first time and I could kind of respond to the memory of that."
After checking out the trailer it looks like Dominic Cooper was the perfect choice.  Teetering back and forth from evil to good, his acting chops are really put to the test in this latest picture that is sure to hold its own at the box office.
"I was always learning," Cooper said. "It would change, sometimes I'd have another actor, sometimes I wouldn't, sometimes I had an earpiece, it was all how I felt at that time and what was most useful for that shot and that moment."
Check out Cooper below in the Devil's Double trailer playing both Uday and Latif.  It's impressive!
via the Los Angeles Times
[youtube https://www.youtube.com/watch?v=qhlQOg9abRk&w=585&h=363%5D