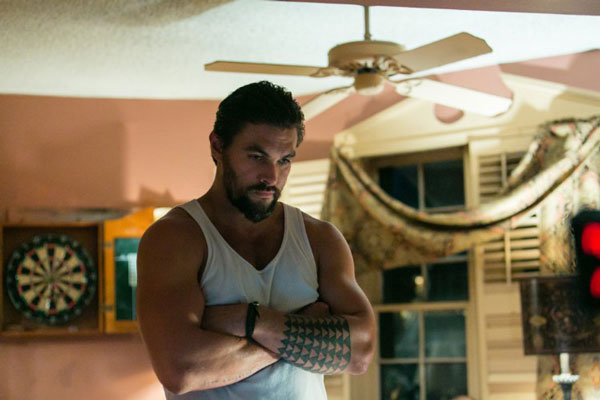 "I'd rather play characters than play someone who's close to myself" – Jason Momoa
Actor Jason Momoa has gone from having to lie about having a modeling background in order to get cast on Baywatch Hawaii to being cast as the superhero Aquaman in the upcoming Batman v Superman: Dawn of Justice. In between he's played Conan the Barbarian, spared with Sylvester Stallone, won sci-fi fans over on Stargate, played Khal Drogo on Game of Thrones, and, in perhaps his favorite role, playing killer Philip Kopus on The Red Road.
In an interview with Vulture, Momoa spoke about the differences between big budget and personal projects, how being Aquaman will change his relationship with fans, and whether he thinks diversity plays into him being cast in certain roles.
Momoa expresses that he doesn't have a preference for playing comic book heroes like Aquaman or a dark, but realistic character like Kopus on Red Road. Ultimately, he just wants to portray characters who are unlike himself in personality. He explains, "I'd rather play characters than play someone who's close to myself. The things I've done this year that [Red Road creator] Aaron Guzikowski wrote, I've never experienced that personally in my life, nor have I ever experienced that as an actor. Kopus is a very, very dark character that's just fun to play. Even in acting class, I never went to these places, so it was a big challenge emotionally for me, and that's an honor. It's what I wanted for my career; it's what I want to be doing. And I get to be a superhero too? Awesome."
Nonetheless, he admits that one drawback to being signed to a franchise like Justice League/Aquaman is that he can't be as open with fans as he has been in the past. He says, "Yeah, I have to now, and it's a real bummer, and it's also my duty now. I'm obviously in the light and people care what I say, so I'm like, 'All right, well, they're not gonna get my sense of personality.' It's pretty much gonna hurt the fans. It just closes you off. As an actor, I'm a pretty open person and I love having fun. But you just have to smile and nod and don't get to open up as much, so it's a bit of a bummer."
When asked if Momoa sees himself as benefiting from the new push to diversify casting, he points out that he felt he was ever more limited by just being seen as an "action guy" because of his physique. He says, "I'm native Kānaka Maoli, but I was raised in Iowa. My mom's Irish-German. She's got some native in her, too, but I was raised in a very white farm town in Iowa. I don't think of myself as just Hawaiian or just white, so it's one of those things [like] where people try to put you in that box of, 'I'm just an action guy,' and that's why I went with my friends and made Road to Paloma, and then it got us The Red Road and we tried to change that perspective. I just don't really think about those things."