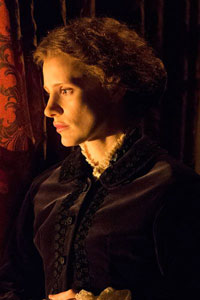 Jessica Chastain is currently queen of the box office, after two of her movies led ticket sales this past weekend.  Her horror flick, Mama, and the Oscar-nominated, Zero Dark Thirty, offered moviegoers completely different fare, but cemented the fact that Chastain is a force to be reckoned with.
The 35-year-old recently walked away with a Best Actress award from the Golden Globes for her portrayal of the CIA agent responsible for killing Osama bin Laden in Zero Dark Thirty.  Along with statues from the National Board of Review, the Broadcast Film Critics Association, and a Critics Choice Award, Chastain is proving that she's a true winner in the acting world.
She was nominated for an Oscar last year for her role in The Help, and is now admitting, "Two awards seasons in a row.  I think people are starting to notice me."
In fact, Chastain (who is currently starring on Broadway in The Heiress) was under the illusion that she was somewhat flying under the radar.  "I used to be in denial about it," she told USA Today.  "Up until six weeks ago.  I used to just say, 'Oh, my life is exactly the same, because no one ever recognizes me.'  I have been working non-stop and when you're working, you're just staring at your feet most of the time.  You don't see what's going on around you."
It's unlikely Chastain will be able to avoid her stardom now.