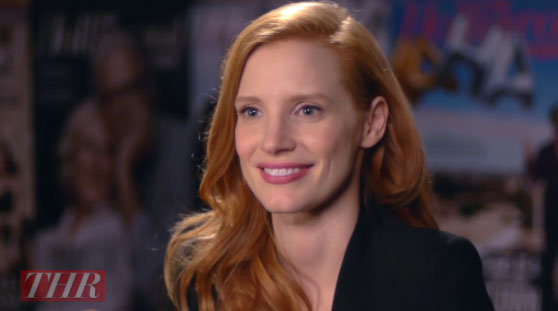 Jessica Chastain is a perfect example of an actress who by hell or high water was going to break through.  In a lengthy interview with The Hollywood Reporter, she spoke in detail about her early career struggles, which sheds some light on why she doesn't want to slow herself down.
Chastain credits her grandmother with giving her the first exposure to acting.  She recalls, "I was seven years old and she said, 'Jessica, this is their professional job, these people.' She was trying to tell me this was a real thing. I didn't quite understand it, but we went in, and then the lights went down, and a spotlight came up on — I think it was, like, a 10-year-old girl. And immediately, in my mind, I was like, 'Oh, this is what I am.'"
She then joined her drama club in junior high school, and her work in her formative years eventually earned her a scholarship to Juilliard (which she later revealed was paid for by none other than Robin Williams).  While at Juilliard she landed her first television role — a guest spot on ER.  She says, "It was the first time I was put in front of a camera. That's how I got my SAG card."
But she admits that after graduating it wasn't as easy.  She reveals, "While I was in L.A. I probably tested for eight television shows. I never got one. I was in situations where I would get 30 pages of dialogue and stay up all night memorizing them. And then, you know, the producer looks at you and then decides you're not right, and they go, 'We just need the first scene.'"  Her early experiences in the industry were not unlike those of many actresses at the beginning of their careers.  She recalls another disheartening moment, adding, "They called me in to pre-read for an audition for like, a day-player on Buffy the Vampire Slayer. And I was like, 'Wait a minute, I have to audition to audition before I get the audition with the producers?' It was, like, the most incredible shock. And it was such a shock, too, to be in a room with the most stunningly, incredibly beautiful women and not feel like I really belonged here in this industry. So it just took me a while."
Because she wasn't getting work as an actor, she would practice it on her own.  For example, she says, "I would do impromptu play readings at my house, and just really silly things that reminded myself every day that I was an actor."  Perhaps that is why in 2004 she moved back to New York, where she finally got her big break while acting in an off-Broadway play.  She reveals, "I got a call that said, 'Al Pacino has requested that you audition for Salome.' It was really shocking. I guess Marthe Keller, his friend, had seen me in this play and suggested me. And I went in, and I auditioned for Al Pacino. Then I was told, you know, after a couple of auditions, that they wanted me for this play — but they didn't know when it would happen."  While that was going on, Chastain received another break: "I got an offer to test for a David Mamet television show. I really love David Mamet."
However, she wasn't going to be able to do both.  She remembers her dilemma, explaining, "It was this moment of: here's one opportunity to do a play with Al Pacino where I'm going to learn so much about acting, but not make any money or whatever, but it's going to feed me as an actor. Or instead I go — and who knows if I would've gotten the role, but I go — test for a television show that I could be on for a long time, working with David Mamet.  I decided to not test and to risk doing Salome.  It got moved a couple of times, but then it finally happened, and it was well worth the gamble."
Though the Mamet series never panned out, the numerous delays for Salome enabled Chastain to finally take the part in the play, and being onstage with Pacino immediately raised her profile.  She explains, "It really helps when you're a struggling actor in Los Angeles if you're playing the title role in Salome, in a play in L.A. with Al Pacino because so many agents, casting directors, and other actors will come see it. And they can't help but go, 'Okay, who's the unknown girl on stage writhing about?' All of a sudden, the kind of auditions I wanted to get I was getting."
It soon led to an explosion of work for Chastain, including seven films featuring her that were released in 2011 alone, four released in 2012, and three scheduled for release in 2013.  It isn't clear if she will continue to work as hard in 2014 and beyond, but one thing is for sure: she's certainly no longer struggling to get attention.