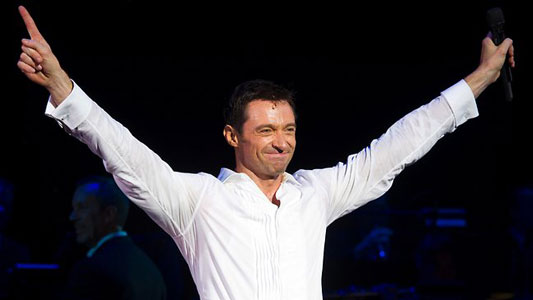 In case you haven't heard, Hugh Jackman is making a long-awaited return to Broadway doing a ten-week run in his own show, Hugh Jackman, Back on Broadway.  Jackman's show will consist of him performing his all-time favorite musical songs.

Part of the reason why Jackman is doing the show is out of necessity — he's aware that he'll never be able to star in all of these productions!  He explains, "It took me a year [to choose which songs I would perform].  My overall goal was that I desperately wanted to sing these songs.  So the whole show would have a thing for me where if I'm busy and let's say I have two weeks off, I would be like 'I really want to go do this show for a week.' rather than 'Okay. I'm doing this show.' It was really important to me to really choose stuff that I love and not just stuff that I thought people would love.  I have an eclectic kind of…there is some musical theater from stuff that I've done and there's stuff that I have wanted to do that I haven't done.  There are also standards, rock and roll, and a little bit of everything."  Jackman's choices are personal, but it's likely that audiences won't mind at all.
Though Jackman did a similar show at the Curran Theatre in San Francisco earlier this year, naturally the musical-loving Jackman prefers to do the show on The Great White Way.
He confesses his preference, saying, "I'm lucky to have worked in theater all over the world, but there's something magical about Broadway.  The audiences are smart, they're educated.  They go in ready and they're up for it, they're up for the party.  It's a whole different atmosphere.  A lot of the other places where you do theater you have a feeling that you have to win them over.  There's little bit of them sitting on their hands.  In Broadway, if they don't like you, they'll let you know early on.  But then they're like 'Alright.  Let's go.  We're ready for a good night.'  There's some combination between that, the history, the proximity of all of these theaters, and the community that exists in the theater – it's just amazing.  There's actually footage of me somewhere in 1996 when I was doing a musical down in Australia.  They sent me to New York to do a column piece, it was like an Australian 60 Minutes.  There's footage of me in Times Square being a d— head going, 'Can you believe this?!  Look at this!  Maybe one day…' So you have to be careful what you wish for."
Jackman is not the only "d— head" to do some dreaming in Times Square, but he might just be the most talented. Hugh Jackman, Back on Broadway runs from October 25th to January 1st 2012 at the Broadhurst Theatre.
via Collider