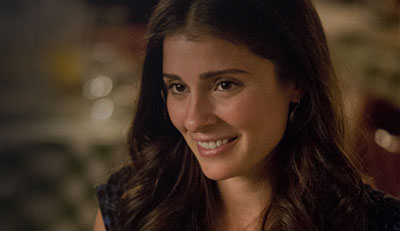 Shiri Appleby was planning on leaving acting behind for a little bit while she got more involved behind the camera.  In an effort to learn more about directing, Appleby was planning on shadowing director Jesse Peretz, who works on HBO's Girls.  Instead, she landed a part on the show, playing a love interest for the character of Adam Sackler (Adam Driver).
"I came out to New York to shadow Jesse Peretz, who actually directed [Sunday's] episode," she said in an interview with Vulture.  "And I'm friendly with Jenni Konner [executive producer]—she set it up for me.  Then when I was out there shadowing, they asked me if I would do the show."
Appleby has previously starred in series like Roswell and Life Unexpected, but wanted to try her hand at directing.  "I was wanting to direct, so you have to start shadowing on shows to show the studios and networks—it's kind of like doing an internship, basically," she said.  "And I was curious about the difference of how [Girls]—something that's winning Emmys and Golden Globes—put their show together, versus other things on television."
The actress didn't even have to audition for the part on Lena Dunham's hit show.
"Lena was like, 'Oh, do you wanna come in and play someone on the show?'  I was like, 'Yeah, of course," Appleby said.  "What actor wouldn't want to be on the show?  And then, a few days later, Jenni emailed me and asked me, and I did a table read with the entire cast.  Afterward, I walked out of the table read and into the bathroom and Lena followed me and said, 'All right, let's do this!'"
Girls airs on HBO, Sundays at 9 p.m.