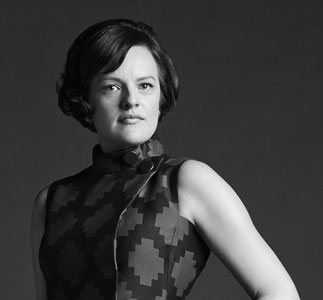 There's no way fans of Mad Men would have allowed Elisabeth Moss' character Peggy Olson to have been kicked off the show.  The creator of the AMC drama, Matt Weiner, would never have let that happen either.
"[Matt] called me right before episode eleven of season five came out and told me what was gonna happen, and my first question was 'That sounds awesome…am I coming back?  Am I going to be on the show?'" Moss recalled in an interview with Vulture.  "And he was actually a little bit offended, I think.  He was like, 'Of course you are.  How could you ask me that?'  And I was like, 'Well, you know, it's a logical question.'  And he assured me that, obviously, it was going to be fine.  And then he told me everything that was going to happen.  You know, great actors who are amazing on the show have left.  So I would never consider myself above that."
Moss has had to embody a very different character for her role on Jane Campion's Top of the Lake.  The actress enjoyed getting to play someone so opposite from Peggy.  "I f—ing loved it," she admitted.  "It was so fun, I have to be honest.  It was SO fun.  Just, you know, in life you try not to glass people, you try not to scream and yell and fight.  And so it's really fun and cathartic to be able to do that, you know, and then not hurt anybody."
One of the more challenging aspects of the role was achieving an authentic Australian-New Zealand accent.  "It was very difficult," Moss confessed.  "And I will not pretend that it wasn't.  It was really hard, and I had to work on it every day.  It's not natural, and I never felt like I could just let it go.  Every night, my dialect coach would send me the scenes and she would have recorded them in the accent, just my dialogue.  And I would put it on my iPod and have the headphones in all the time and just listen to it over and over."
The other element that Moss found difficult was the sex scenes she had to do on Top of the Lake.
"I mean, it'll never be my favorite thing to do," she said.  "I suppose the good thing was that I felt like it looked good and I felt like I was happy with it and proud of it and not embarrassed.  The weirdest thing is having to make, like, sex noises.  And I remember one scene that's actually not in the series that was cut.  There were, like, three love scenes that were cut.  And I was doing one, and I did it and then Jane said that I was being too loud!  And I was so embarrassed, 'cause you just think, Oh God, is this what people think I do?  You know?  It's very private!  And so, you know, it was just embarrassing that like I was—I thought that that was what she wanted, so I was like really kinda going for it, and then she was like, 'It's too much.'  I was just mortified."
But Moss has adapted successfully to some challenges her role demanded of her.  For example, the actress is now an expert at playing darts.  "I practiced a lot," she said.  "I had a dartboard at home and I would practice a lot, usually after a couple glasses of wine, which resulted in a lot of holes in the furniture.  But I practiced because I knew I was never going to become amazing, but I just wanted to feel comfortable with it.  The odd thing was I actually was way better when the camera was rolling and I was playing as Robin.  When I was in character and being strong and being tough, being her, I was way better at it."
Mad Men airs on AMC on Sundays at 9 p.m., and Top of the Lake airs on Sundance Channel on Mondays at 10 p.m.