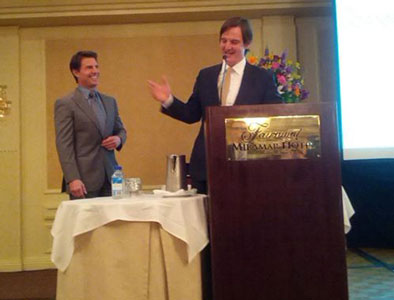 And the only person who spoke at my college graduation was some annoying Senator who gives the same speech every single year…
The sixty graduating students at the Joanne Baron/D.W. Brown Studio in Santa Monica definitely got a much bigger surprise when their commencement speaker last Sunday turned out to be none other than Tom Cruise.  Cruise spoke to the students about his first film and the importance of embracing the atmosphere when doing your first movie.
An attendee told The New York Post, "He said that when you do finally get the chance of being in a movie, don't spend the time in the trailer.  He said you need to experience everything on the movie, talk to everyone on the crew, the grips, everyone. Learn everything you can. You will never get that time back. He talked about trying to be as prepared as possible, and that you can only depend on yourself."
Another source added that Cruise's cousin, the actor William Mapother, is a graduate of the institution. 
Cruise is just the latest A-lister who has spoken at the acting school.  Previous speakers include Tom Hanks, Anthony Hopkins, Robert De Niro and Dustin Hoffman.  And yeah, none of them showed up at my graduation either.