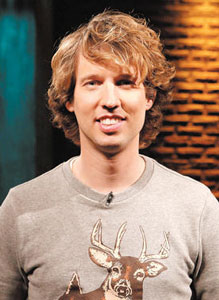 In a recent interview with New York Magazine, Napoleon Dynamite star Jon Heder talked about why he never became a household name after playing the lead in the 2004 underdog comedy.
"I enjoy success and I certainly want the projects I did to do well, but I realized how happy I am trying to be somewhat normal without becoming huge," said the 34-year-old actor, whose Mormonism also plays a role in determining which offers he turns down.
"I did get a lot of offers, especially back (in the mid-2000s), of stuff that I'm not comfortable with. A lot of the projects just seemed too raunchy… I've never been interested in doing those kinds of projects," he said.
Since arriving on Hollywood's radar seven years ago, Heder has starred in several high-profile movies, including The Benchwarmers, School for Scoundrels and Blades of Glory.
However, none of those films has defined his career quite like Napoleon Dynamite, a quirky indie comedy about an awkward high-schooler in a dead-end Idaho town. In fact, the role continues to follow him around — he's lending his voice to an animated FOX series based on the film, which premiered last week. 
"Of course I want to continue to try to do other things, but I know that that may be the role that I become known for. And hopefully I will expand my skills and my horizons in the acting and entertainment field, but there's no bitterness towards the character," Heder explains. "I loved the character from day one… This was the kind of film that I would've made."
Catch the new animated comedy, Napoleon Dynamite on FOX, Sunday January 29th at  8:30/7:30c