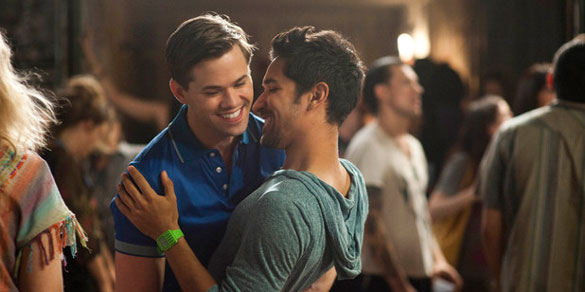 Andrew Rannells has had an incredible rise to the top after his successful Broadway run in The Book of Mormon. After starring in last season's The New Normal on NBC, he found himself back on HBO's Girls as the quick-witted Elijah.
He talked about his return to the Lena Dunham-helmed series with Vulture.
"I was supposed to do one episode, the North Fork episode, and then, as luck would have it, the show that I was on, on NBC, The New Normal, was canceled," he said. "Lena Dunham and Jenni Konner called within 45 minutes of that show being canceled and said, 'Just come back. Just come back to us. You always have a place here at Girls.' And I felt so taken care of and protected by them, and very, very lucky to be a part of the show again. So they sort of adjusted some things and shoved me back in the show."
Even though the 35-year-old actor was happy to find a place to land, it wasn't easy to see his sitcom become a victim of low ratings.
"Yeah, it was tough. Cold comfort, but NBC canceled all of their new comedies last year. My friend Laura Benanti, who was on Go On, she and I were talking throughout the whole process, and our shows were the last ones to get canceled. And we were like, 'Well, at least we both got canceled. At least no one was left out.' It was such an educational experience about what it was to do a network show. That was the big takeaway," Rannells revealed. "I feel so lucky to be working at Girls because there's so much time to develop the story and what you're doing. And just the structure in which a network show is filmed, you don't really have that time. There was no time to reflect or think about anything."
Rannells continues with Girls throughout Season 4 and he will be hitting the stage at Carnegie Hall with The New York Pops on March 21.