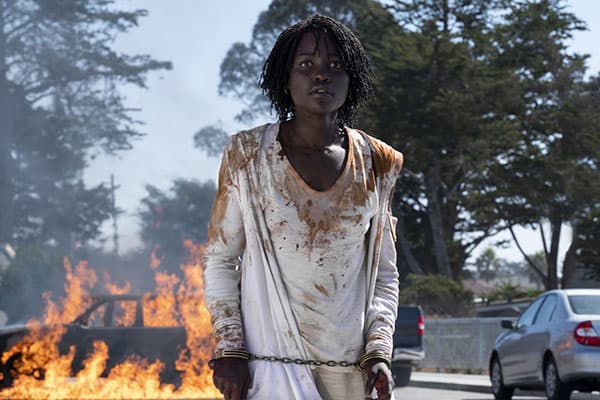 "I worked very hard at trying to delineate the two and it was about very painstakingly creating a physical, emotional and psychological vocabulary for each one of them." – Lupita Nyong'o
Jordan Peele's eagerly-awaited follow-up to his 2017 Oscar-winning film Get Out, Us, recently premiered to rave reviews at SXSW. One of the most praised aspects of the horror film is the performance by lead actress Luptia Nyong'o. In an interview with the Los Angeles Times, Nyong'o speaks about playing two different characters in the same film and
In the film, Nyong'o plays both a mother, Adelaide, and her doppelgänger, Red. On playing two different characters that otherwise look identical, Nyong'o explains that she approached the characters from different physical places. She says:
I worked very hard at trying to delineate the two and it was about very painstakingly creating a physical, emotional and psychological vocabulary for each one of them. And for me, what cracked it open was figuring out the physicality after all my research was done. I went into the physical work of it.

A governing factor for me was that Adelaide I approached with a more naturalistic style, and with Red, I was definitely more stylistic. And then within that, Jordan gave me specific words that he felt represented each one. And I basically ran with those. [One thing] I knew about Adelaide is that she has a past in dance, and so having the residue of a dancer was something that I really worked on. I did ballet classes and that sort of thing. And then with Red, he used the words "queen" and "cockroach" and those two words are so dissonant, but they made a lot of sense to me.
Nyong'o continues by pointing out that Peele's use of the word "cockroach" to describe Red was influential on several levels. She explains, "But there is the kind of regality but also with the determination and surprise of a cockroach. A cockroach can be completely still and then just dart and scurry and they're survivors and they're also the things that we dread. When you see a cockroach, things are not good. Those two things really helped to inspire the direction I went with both characters."