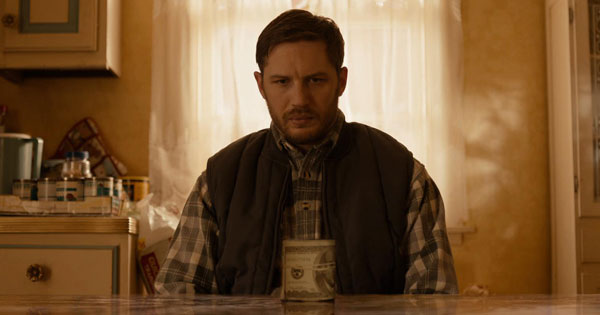 Tom Hardy might not seem like the friendliest celebrity, but he promises that he's just protecting himself. His work onscreen has taken him from films like The Dark Knight Rises to unexpected fare like This Means War.
The 37-year-old actor talked about why he likes to challenge himself even with a romantic comedy. He explained to USA Today, "I love to do things I hadn't done before."
However, This Means War was not the experience he was hoping for. Hardy admitted, "I didn't understand how you could do something which is so much fun and be so miserable doing it. I probably won't do a romantic comedy again, do you know what I mean?"
Even though he's retired from rom-coms, Hardy did enjoy his time on the set of The Drop starring the late James Gandolfini. The actor played a bartender working in a mob-controlled business in Brooklyn. Gandolfini took on the role of the bar owner who lost control once the mobsters moved in.
Hardy loved working with The Sopranos actor. He said, "The man I met I loved. He was a brilliant actor. Super talented. Super sensitive, vulnerable, emotionally articulate, generous, kind."
With the reboot of Mad Max coming into his life, Hardy isn't looking forward to his private life becoming a thing of the past. He knows there will be more inquiries into his rumored love life with actress Charlotte Riley.
"I don't like it when people say, 'Well, you should have expected that when you accepted the job as an actor,' " he said. "When you go to drama school, no one gives you a class on fame. … Just treat people how you wish to be treated. Whether I'm married or not married, people will find out. But it's also not something I'm going to offer."
Hardy summed up, "I'm not really a road dog. I'm a bit of a homeboy. But "the reality is, I love what I (expletive) do."
The Drop opened on Sept. 12.