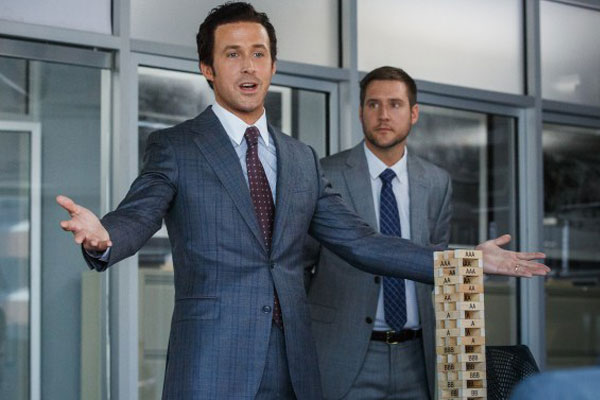 With a cast that includes Steve Carell, Brad Pitt, Ryan Gosling, Christian Bale, Rafe Spall, and Marissa Tomei, it would seem like all the good roles in Adam McKay's The Big Short were taken.  But among the dozens of cast members is Jeffry Griffin, a previously little-known but well-traveled actor who plays Chris, the assistant to Gosling's character. Griffin spent over a decade playing bit parts in films before landing his first significant role in a major production. In an interview with Variety, Griffin revealed how he ended up going from an extra with little more than a lottery commercial on his schedule to a two-week shoot on an awards-caliber film.
The Baton Rouge resident heard that The Big Short was being shot in New Orleans and was told by a friend working on the film that the production was looking for extras. Griffin remembers, "She said, 'Just get on set and maybe someone will like you and they'll throw you a line or something."
However, when Griffin arrived on the set he was picked out of a line-up to play Gosling's character's assistant. Griffin recalls embarrassing himself the first time he met Gosling. He says, "The first thing he said was, 'Hey, buddy, you Chris?' I said, 'No, I'm Jeffry, nice to meet you.' Then I realized Chris was the character. I felt so stupid. I just met this guy and I'm already looking like an idiot. But it was perfect for our relationship."
Thankfully, Griffin's role required him to be a bit of a bumbling assistant. The first scene he shot was when Chris was handing out keys at a convention in Las Vegas. Gosling had some advice for Griffin for the second take. "He said, 'This time, I want you to play it as if you can't do anything right.' I said, 'That's easy, that's my life.' We shot it, and it was great."
As far as Griffin knew, that was his only scene in the film. That is, until two weeks later when Charlotte Gale, who was responsible for casting extras on the film, called him and told him to come back to New Orleans the next day. However, Griffin was supposed to shoot a commercial for the Lousiana Lottery the next day. "She said, 'Cancel it. You've just won the Lotto. She told me, 'I don't know what you did, but Ryan really likes you and he wants you to come back.'" Gale told him that The Big Short needed him for another week. That week was extended to two weeks as Griffin's role kept getting bigger, in part because Griffin did research on the housing crisis and showed an ability to improvise with other actors in the scenes, an ability McKay utilizes often in his film.
He made sure to thank Gosling for recommending him to the casting directors and McKay for giving him the opportunity to build his character. He says, "They were always so kind and so generous and so encouraging. On my last day, I went to Ryan to say thank you. And he said, 'You totally created Chris, you created this character. You did great.'"
To sum up his experience, Griffin says he just tried to make the most of the opportunity that was offered to him. He explains, "I've spent years doing this and found myself in the right place and just went with it."