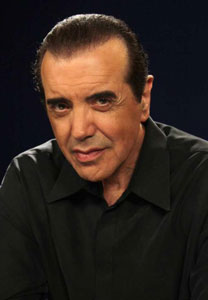 It's funny how people who often claim that they have "street smarts" actually possess none, but that's not something you can accuse actor/writer Chazz Palminteri of misrepresenting.  Born in the Bronx, Palminteri's A Bronx Tale is viewed as a classic coming-of-age story that dispenses as much wisdom as it does violence.  In that vein, Palminteri has started his own website, www.AskChazz.com, to dispense advice for both the movie industry and for life in general.  The site has been such a success that Palminteri will be hosting four "Ask Chazz" shows on SiriusXM radio.
Palminteri admits that the advice comes from his background, explaining, "It's like life lessons told in a street-savvy way.  People say I have my own Chazz-isms. That's why I started the web site, Ask Chazz."
Though a recognized actor now, Palminteri was typecast in mostly bit parts as mafia toughs until his acclaimed off-Broadway autobiographical one-man show A Bronx Tale became a hit.  In the audience of one the performances was Robert De Niro, who directed and starred in the 1993 film version (with Palminteri himself taking a lead role).  That breakthrough has lead to a long career in film for Palminteri, who points out, "Robert De Niro helped me. He gave me my first big break, and I never forgot it."  In a similar way to De Niro helping him, Palminteri is letting young actors send him a one-minute monologue that he will forward to producers (his website for submissions is here).  On why he is doing this and running his Ask Chazz website, he says, "I love helping young talent" — revealing that despite the fact that he usually plays characters one wouldn't want to mess with, he's actually one of the most open and friendly people in the business.
via the Associated Press