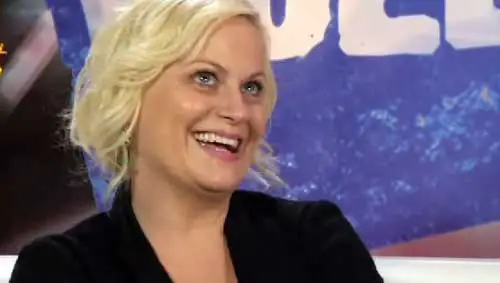 In a recent interview with omg!'s Young Hollywood web series, Parks and Recreation star Amy Poehler offered her advice to the thousands of aspiring comedians trying to break into Hollywood and attain the level of success her and her NBC co-stars enjoy.
"There's not enough jobs and too many funny people. Stay out of here. We don't want you here," Poehler told host RJ Williams.
She followed those welcoming words up with something a little more sincere. "Honestly, genuinely be prepared to be broke for, like, 15 years," she suggested before adding, "If you can create your own stuff and work with the right people, something will happen."
Poehler had her successes before Parks, but she clearly found that something with the half-hour mockumentary series, which follows the hilarious government employees in the fictional town of Pawnee, Indiana. She plays Deputy Director of Parks and Recreation Leslie Knope on the critically- and commercially-adored show.
Now in its third season, Parks' latest episodes didn't begin airing until January due to Poehler's recent pregnancy (she had a boy, her second) and NBC's decision to air new comedy Outsourced in its place until the end of 2010. Following The Office's strong Thursday night lead-in, the show is one of the struggling network's bright spots.
"I'm super happy to be back and super happy to be behind The Office," Poehler said.