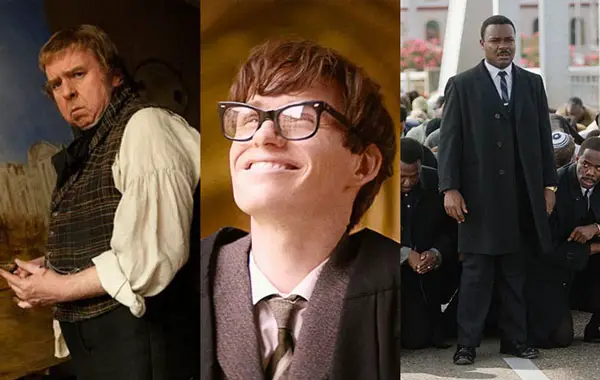 Written by Brian Timoney

Playing a real person, on stage or screen, can be a burden of responsibility for even the most experienced actor.
Though actors playing real people, and especially well-known real people, have more to draw on in terms of research and documentary evidence, imagination and strong technique are still essential to an authentic performance.
Great method actor Daniel Day Lewis, who spoke of "the gravitational pull of another life that fires one's curiosity," achieved this perfectly as Abraham Lincoln, a performance that has become the benchmark for actors portraying real figures:
"By some feat of imagination and empathy, he then made Lincoln seem real. This wasn't just mimicry. It was as much to do with expressing the feelings and thought processes of the President at a pivotal moment in his life as it was with appearance or voice." – The Independent
Actors playing real figures, like Day-Lewis, should treat the performance no differently than any other. Rather than imitating, they should explore emotions, motivations, body and voice to become the person, as with any other role.
Three British actors who have accomplished this with honors this year are Timothy Spall, as JMW Turner in Mr Turner, Eddie Redmayne, as Stephen Hawking in The Theory of Everything and David Oyelowo, as Martin Luther King Jr. in Selma.
They have all portrayed real and well-known figures from history with nuance, power and authenticity – to the point where you no longer feel you are watching an actor playing a real person on screen, but rather the person themselves. They have each been rightly celebrated with awards and accolades on both sides of the Atlantic.
Let's have a look at their performances:
Timothy Spall as J.M.W. Turner (Mr. Turner)
"We had to push our creative juices to fill in the gaps, to use the evidences before us as a seed for artistic and dramatic license"- Timothy Spall
In the crowning glory of a lifelong collaboration with Mike Leigh, Timothy Spall shone in a performance that won him the Best Actor prize at Cannes Film Festival. Using the trademark Mike Leigh improvisation and many hours learning to paint, Spall transformed into the famous 19th century painter, bringing him to life on the screen "all bluster, phlegm and heartache".
"Whether he's casually satisfying his sexual needs with his long-suffering housekeeper or—in what has quickly become the film's most famous sequence—lashing himself to the mast of a ship to best observe a snowstorm to re-create with paint and canvas later, he's vigorously, infuriatingly alive" – Backstage on Timothy Spall's Turner.
Eddie Redmayne as Stephen Hawking (The Theory of Everything)
"At times I thought he was me"- Eddie Redmayne
Eddie Redmayne's gradual transformation as Stephen Hawking in The Theory of Everything has earned him a Golden Globe already, as well as nominations at the BAFTA and Academy Awards in February. He always doubted whether he could portray the world-renowned physicist on screen with authenticity, and feared letting Hawking down.
"My instinct was to try to learn the different stages of the physicality like a dance."- Eddie Redmayne
With research and well-established method acting techniques, though, he found the man behind the public persona and created a performance that has won applause from his peers and approval of Hawking himself:
David Oyelowo as Martin Luther King Jr. (Selma)
"David Oyelowo, whose King radiates an authenticity unseen in the biopic form since Daniel Day Lewis' (appropriately awarded) "Lincoln."" – Indiewire
If Daniel Day Lewis's Abraham Lincoln is the benchmark, then David Oyelowo smashed it. In a role for which he prepared for seven years, Oyelowo became Dr. King in the three months surrounding the Voting Rights Act with complete believability.
"My hope, my desire—the work I do is to make you feel like you're watching Dr. King." – David Oyelowo
There is only so far you can go with research and imitation. To create an authentic performance, you must eventually strip the role back to the emotions of the character. For that, it doesn't matter if they are a real person or a fictional character. The technique and processes are the same.
Would you like to know more about how method acting techniques can help to find an authentic performance? Why not read my new book?

Brian Timoney is one of the world's leading authorities on method acting. He currently delivers a range of method acting classes at the Brian Timoney Actors' Studio in London & LA, & is author of "The Ultimate Guide to Method Acting".