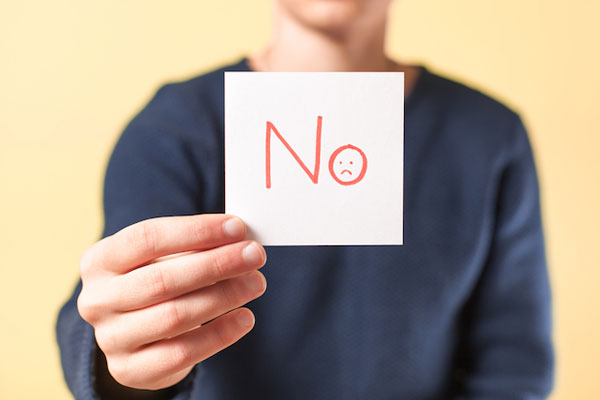 Not many people have to constantly look for work and face rejection on a daily basis but it is part of an actor's job.
You will be rejected by casting directors, agents. People will criticize your work, your friend will get that role you wanted and there will be awards you had your heart set on that you don't win.
It is hard sometimes and it takes a lot of strength to put yourself out there as an actor and to keep moving forwards after every knock back.
Did you know that an actor will, on average, book 1 in 16 professional jobs that they have been seen for?
Do you know that to be called for an audition alone is cause for celebration as you'll have been shortlisted from hundreds, or even thousands to be seen?
Stop being hard on yourself if you don't book the job/win the award/get an amazing review of your film and focus on the positives. Did you enjoy your chance to perform? Who did you meet? Did you learn from it?
Don't get me wrong here. I don't expect you to be skipping away gleefully to the news that you didn't get the life changing role that you auditioned 3 times for and been shortlisted as one of the final two actors. Of course you are going to be disappointed and that is perfectly natural. Do what you need to do – get yourself a glass of wine, go for a workout, meditate or do whatever works for you, then move on. Torturing yourself about what you could have done differently is not going to help.
Most rejections are beyond your control and the reason you haven't been booked could be anything from the color of your hair to a choice you made that wasn't quite what they had in mind for the role.
Don't ever take it personally, they have to make a choice!
Use it as motivation. So, you had a knock back? Now is your chance to come back stronger, up your game and really show what you can do. What did you learn from your experience and what are you going to do next to further your career? Put your next plan into action!
I will leave you with something to think about…
Every rejection is one step closer to victory and every top actor has been knocked back. What if they had given up not knowing how close they were to success?
Eirian Cohen is an actress and co-producer at www.esgmedia.org. She's also the founder of www.northernstaracting.co.uk