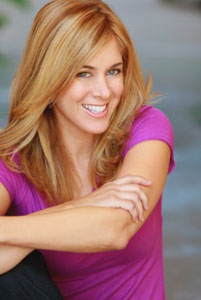 By Annie Wood
I've been acting and writing since I was knee-high to a grasshopper. I will always be an actress and writer, even when I'm not working I will still be… working. It's ingrained into my being. When I say that I'm a Lifer, that's what I mean.
But I also mean something else. That something else is the part that I encourage you now to be.
A Lifer meaning someone who lives their life.
I remember when I first went to an actor party and I noticed that we were all reciting our resumes to anyone within ear shot and discussing our auditions and bookings and complaining about how slow it was and how crappy our agents were. I got caught up in all of this banter at the time because this is what we did when we were amongst our fellow thespians.
But, after many years of this, well, it got a tad tiring.  Now don't get me wrong, it is great to have a passion and if you're main passion is acting, that's fantastic! But I urge you to not let it be the only thing you do, think or talk about. Not just for the sake of others, but for your own.
Think about it., the more well rounded you are, the deeper the well for you to draw from for the characters you will play. Since you will put yourself into your roles, why not have a lot of self there to begin with? Some of the ways you can do this is by studying others, asking questions, really listening, trying new things, traveling, falling in love, painting, playing with your dog, writing, reading, trying stand-up, try singing, dancing, maybe even make some friends outside of the business. At least one.
Basically, keep yourself busy and active because the more interested  you are, the more interesting you will be.
Now, to quote a line from my favorite character, Maude, from my favorite movie, Harold and Maude, "Go out there and L.I.V.E.! LIVE! Or else you got nothing to talk about in the locker room."
Love and Peace,
Annie Wood

Annie Is a lifer actress and writer. Her new book of original comedic scenes, "Act Up and Make a Scene"  can be found at the Hollywood Samuel French store and on Amazon.
Annie also is a writer-for-hire for actors looking for a unique scene written just for them.
For more information about that please visit her site and click on Writing. www.anniewood.com