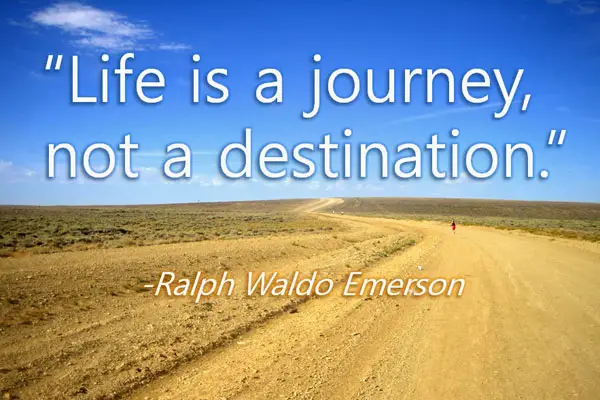 Even if I never reach my long term goal, my life will be much more fulfilled than if I hadn't tried.
Because every day I wake up excited, focused and ready for action. Every night I go to bed already anticipating what will happen tomorrow. Every day I get to live my passion and help other people to live theirs.
It's not only about the end destination. It's about having something to reach for.

Purpose.
Focus.
Drive.
A life.
If I never reach my big vision, it's OK. Because just having the vision has changed the way I think, the actions I take and how I feel. And isn't it the truth that as we get closer to our big vision, we make it even bigger anyway?
One thing I know is I'll never stop trying to do more. To be more. Someone asked me once if I'll ever be satisfied with where I am and the answer is no.
Grateful, yes! I appreciate how far I've come every single day. But satisfied? No.
Because there is always another step I can take. Another level to climb up. Something else to reach towards. I wouldn't want that to change because it's what makes me feel fulfilled and happy. I don't have any negative feelings about the fact that I'm not yet where I want to be, because I regularly remind myself how far I've come and take time to appreciate that, and everything and everyone around me.
Too many people get frustrated that they're not yet where they want to be, but they fail to enjoy and appreciate the journey.
Stop every day to remind yourself how far you have already come. Write a list of all of your achievements, big and small, and keep adding to it.
What's your biggest fear? Death? Failure? Fire? Creepy crawlies?
Mine is stagnation. It's coming to the end of my life wishing I had experienced more, been more, Made more of a difference.
If you found out you only had an hour to live, what would you wish you had done?
Whatever it is, do it now.
Not on Monday, not next month and definitely not in the new year.
You weren't born to be ordinary… You were born to shine!
Eirian Cohen | "I help new actors to fly into the industry like silver bullets. What you believe, you will achieve" | Mindset Coach & Founder of Northern Star Acting and co-producer of ESG Media, LTD