'The Walking Dead' star Norman Reedus Reveals His Non-traditional Path to a Successful Acting Career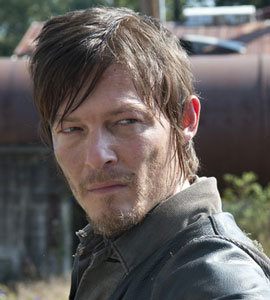 Some people have very traditional routes in pursuing their acting career by studying at a prestigious school, making their way out to Los Angeles and eventually getting their first big break. For The Walking Dead's Norman Reedus, his path was anything but traditional.
In an interview with the U.K.'s Metro, he talked about his journey as a working actor.
"I followed a girl I met in Japan to Los Angeles and ended up working in a motorcycle store. I quit the job one night, went to a party in the Hollywood Hills and ended up yelling at a bunch of people. Someone saw me yelling and asked me to be in a play," he said.
While he didn't even have to audition for the role, his path got even easier when he was scouted once the play went up.
Reedus continued, "The first night, there was an agent in the audience who took me on and sent me out for jobs."
After the play closed, he immediately was cast in another project.
"I did a film called Floating early on that had a scene which was similar to a real-life situation I was in at the time. It involved me having a conversation with my father, who was dying. It was close to home and it made me realize acting wasn't just making faces for the cameras, it was a real art form," shared the 44-year-old actor. "That scene opened my eyes and made me want to try harder at it. You need jumbo elephant balls to be an actor in the first place because there's a lot of rejection – so you need to believe in it."
It seems like the AMC star had it pretty easy in the beginning of his career, but not all of his jobs were glamorous. He talked about his least favorite jobs both in and out of the entertainment industry.
"The motorcycle store wasn't that much fun. It was a lot of grunt work – changing oil and tires," said Reedus. "As far as acting, I did a film early on which involved me crying and breaking down and making a confession. As I was doing it, I looked at the other actor in the scene, who was looking over my shoulder, saying: 'Can I get a cappuccino?' I was like: 'Is this how it works? Is this what you're supposed to do?' I was so new to it, I didn't know any better. Now I think: 'What a jerk…'"
Season 4 of AMC's The Walking Dead premiered on Oct. 13.
http://www.dailyactor.com/wp-content/uploads/2016/08/imperium_daniele_radcliffe.jpg
Daniel Radcliffe on Playing a Neo-Nazi in 'Imperium': "It's still just horrible to say some of this stuff"
Radcliffe reveals how he played such a layered character and what it felt like to say his character's hate-filled dialogue.
http://www.dailyactor.com/film/daniel-radcliffe-playing-a-neo-nazi-imperium/
http://www.dailyactor.com/wp-content/uploads/2016/08/John-Cho-Star-Trek-Beyond.jpg
How John Cho Took A Stand for Diversity Early in His Career
"When one does speak one's mind, one might be surprised at how receptive people are." - Actor John Cho
http://www.dailyactor.com/film/john-cho-took-a-stand-for-diversity/
http://www.dailyactor.com/wp-content/uploads/2016/08/simon-helberg-florence-foster-jenkins.jpg
Simon Helberg on His 'Florence Foster Jenkins' Role: "I'm an actor and I want to stretch different muscles"
Helberg spoke about portraying his character in the film and whether or not he feels typecast by his Big Bang Theory role.
http://www.dailyactor.com/film/simon-helberg-florence-foster-jenkins-role/
http://www.dailyactor.com/wp-content/uploads/2016/08/Will-Chase-Something-Rotten.jpg
The Role That Got Away: Will Chase on Returning to 'Something Rotten!'
"I know that I am a poor man's fill-in-the-blank. And I know that there are poor man's Will Chases out there. That's just the nature of the business" - Will Chase
http://www.dailyactor.com/broadway-theater/will-chase-something-rotten-role-that-got-away/
http://www.dailyactor.com/wp-content/uploads/2016/08/Julia-Stiles-Jason-Bourne.jpg
Julia Stiles on the Jason Bourne Series and Growing as an Actress: "There's always room for improvement"
"I like a director that encourages me to be playful. I don't really like being restricted or controlled by a director." - Julia Stiles
http://www.dailyactor.com/film/julia-stiles-growing-as-an-actress/