Louis C.K.'s FX Series 'Louie' to Go on Hiatus for 2013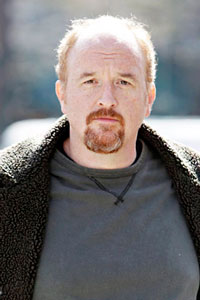 So there's good news and bad news for fans of the Emmy-winning comedy Louie, which comedian Louis C.K. not only writes but stars in.  The good news?  There will be a season 4.  The bad news?  It won't begin airing until spring 2014 at the earliest.  Louis C.K. revealed this news to reporters several days after the third season finale aired and while he is on a lengthy national standup tour.
Louis C.K. explained that he is taking the break primarily to recharge his creative batteries.  He says, "The last three seasons have been this surge of fun and work and stories, and it's been great to share all this stuff, and I want to keep going.  I want the show to keep getting better. That's my goal, and I don't want it to be making the doughnuts. I want it to keep being something that comes from somewhere fun and important, and I want it to stay funny. It's a luxury that I asked for, which is more time to create Season 4."  FX, the channel that airs Louie, had no issue with granting Louis C.K. a break from producing the series.
The third season of Louie won acclaim for its multi-episode story arcs — particularly a lengthy storyline in which the title character auditions to replace David Letterman as host of The Late Show — but Louis C.K. admitted that he isn't sure if he'll continue in that direction.  He said, "Who knows? Maybe there'll be a six-episode story, or maybe there won't be. I still have to noodle it all out, but there is potential for that."
http://www.dailyactor.com/wp-content/uploads/2016/02/alicia-Vikander-Ex-machina.jpg
Alicia Vikander on the Her First Trip to L.A. and the Acting Tip 'Ex-Machina' Director Alex Garland Gave Her
"You [get immersed in] a film and of course you think that that is it. And then you go away and you read a new script and you have a new crush" - Alicia Vikander
http://www.dailyactor.com/actors-on-acting/alicia-vikanderacting-tip-ex-machina-director-alex-garland-gave-her/
http://www.dailyactor.com/wp-content/uploads/2016/02/Channing-Tatum-Hail-Caesar.jpg
Channing Tatum Talks 'Hail, Caesar!': "I've been beating on the Coens' door for years, man"
"It's the most I've ever prepped for a six-minute section in a movie." - Channing Tatum
http://www.dailyactor.com/actors-on-acting/channing-tatum-hail-caesar-tap-dancing/
http://www.dailyactor.com/wp-content/uploads/2016/01/Isidora-Goreshter-Shameless-audition.jpg
Isidora Goreshter Remembers Her Audition for 'Shameless'
Goreshter recently recalled that her audition for the 'Shameless' was by far her worst ever.
http://www.dailyactor.com/actors-on-acting/isidora-goreshter-audition-for-shameless/
http://www.dailyactor.com/wp-content/uploads/2016/01/Sutton-Foster-Younger.jpg
Sutton Foster: "Sometimes I won't even find a character until I put on the costume"
"I never had grand aspirations to be a movie star, to be famous or to be on TV. The theater was what I wanted." - Sutton Foster
http://www.dailyactor.com/actors-on-acting/sutton-foster-younger-character-costume/
http://www.dailyactor.com/wp-content/uploads/2016/01/Paul-Giamatti-Billions.jpg
Paul Giamatti on Building His Career: "I was always willing to just go, 'OK, sure, I'll do that'"
"I've done everything an actor can do except porn and performing in an amusement park" - Paul Giamatti
http://www.dailyactor.com/actors-on-acting/paul-giamatti-billions-building-an-acting-career/