Sons of Anarchy's Kim Coates: "Listen, everybody is typecast"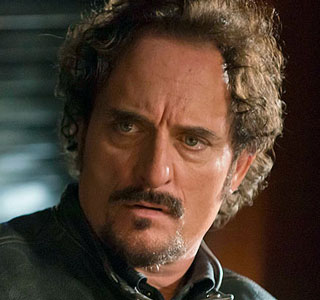 Kim Coates readily admits that he plays similar character types.
"Listen, everybody is typecast," he told The Calgary Herald.  "Every actor is either a leading man or a character actor or a ingénue. You're pretty or you're fat.  I've got blue eyes.  I've got these cheek bones.  I've got a big nose.  Yeah, I'm a tough guy.  But I love to mix it up."
Coates, who plays the quintessential villain Tig Trager on FX's Sons of Anarchy, also talked about his first reaction to his character, saying.  "I read one script, the first one, and I said, 'You know Kurt [Sutter, the creator of the show], I have no interest in playing a sociopath.  I just don't and I won't.' And he said, 'But Kim, this is why we want you.  Trust me, you are going to have a heart.  You're going to be funny.  You're going to be sexy.  Yeah, you'll be tough as nails.  But it's metaphorically based on Hamlet.  You have Shakespeare in your background.  You're a phenomenal actor.  Just come along for the ride…'"
Five seasons later, Coates is still showing that maybe not all typecasting is bad.
The actor can also be seen in two new films, Rufus and Ferocious, both of which just premiered at the Calgary International Film Festival.
http://www.dailyactor.com/wp-content/uploads/2016/04/julia-louis-dreyfus-veep.jpg
Julia Louis-Dreyfus: "Opportunity for women in television has increased. It's because the landscape has widened"
"I did not come out of SNL as any kind of name. I didn't do anything particularly great when I was there. I didn't. It's fine. But I learned a tremendous amount."
http://www.dailyactor.com/actors-on-acting/julia-louis-dreyfus/
http://www.dailyactor.com/wp-content/uploads/2016/04/Tituss-Burgess-Unbreakable-Kimmy-Schmidt.jpg
Tituss Burgess on How He Landed His 'Unbreakable Kimmy Schmidt' Role
Burgess reveals how his role on 30 Rock led to 'Kimmy Schmidt' and whether or not he'd consider returning to Broadway.
http://www.dailyactor.com/actors-on-acting/tituss-burgess-unbreakable-kimmy-schmidt-role/
http://www.dailyactor.com/wp-content/uploads/2016/04/Christine-Baranski-The-Good-Wife.jpg
Christine Baranski on the End of 'The Good Wife' and Going Back to Theatre
The final episode of The Good Wife airs on May 8, and it's been several weeks since series star Christine Baranski shot the final episode with her co-stars. She spoke to The Hollywood Reporter about the end of the series she has spent the last seven years working on and what she plans to do […]
http://www.dailyactor.com/actors-on-acting/christine-baranski-the-good-wife-theatre/
http://www.dailyactor.com/wp-content/uploads/2016/04/jake-gyllenhaal-demolition.jpg
Jake Gyllenhaal on 'Demolition', Working with Chris Cooper and Directors Who Want Nothing to Do With Him
"I think storytelling is the most important part of movie-making over performance." - Jake Gyllenhaal
http://www.dailyactor.com/actors-on-acting/jake-gyllenhaal-demolition-chris-cooper/
http://www.dailyactor.com/wp-content/uploads/2016/04/don-cheadle-miles-davis.jpg
Don Cheadle: "Be scared. Be on the edge of your creativity"
"Be willing to fall flat on your face and be in an unknown place. If you're doing that, you're probably growing" - Don Cheadle
http://www.dailyactor.com/actors-on-acting/don-cheadle-scared-creativity/