Julianna Margulies talks 'The Good Wife', Working in Television and How Leaving L.A. Gave Her a "Different Perspective"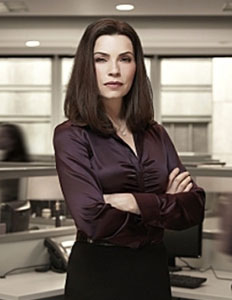 Julianna Margulies has had the good fortune of starring on not one, but two hit television series in her career.  But it wasn't like she was counting on another Emmy-winning role after ER.
"I truly had no expectations after ER," she said in an interview with The Los Angeles Times.  "For me, it was about finding the right roles.  Television is such a fantastic medium for women, and in an industry obsessed with youth and celebrity television, it allows actresses to have these interesting characters to have a life to grow."
She certainly found the role of a lifetime as Alicia Florrick on CBS's The Good Wife.  "There's something attractive when you get to play a character who has been so sheltered from the reality of her life, to be able to climb out of that and find herself….I love that this network drama has a lead character who doesn't actually talk that much," she said.  "Actors shy away from television because they worry about making it mundane and commonplace.  But this was a character I could envision 10 years from now."
Margulies doesn't let the fame and success go to her head, despite having won two Emmys and a Golden Globe.
"I was a coat check girl, a bartender, a waitress.  I stuffed envelopes in a real estate office," she recalled.  "I know what it's like to struggle.  At the end of the day I always felt: Were you kind?  Were you truthful?  Did you solve problems rather than cause problems?  I'm not saying I never have a bad day, but it never bothers me.  My assistant gets upset if we walk into a store and they don't know who I am.  I love it.  It means I'm regular.  For me as an actor, the well I draw on is being able to watch human behavior.  I had good times in LA, but I felt lonely that I couldn't see the world from a different perspective.  I don't want to be locked up in a little bubble."
http://www.dailyactor.com/wp-content/uploads/2015/10/Bridge-of-Spies-Tom-Hanks-Mark-Rylance.jpg
Tom Hanks on Working with Steven Spielberg and Mark Rylance in 'Bridge of Spies'
"Steven does this incredible thing when he casts you: He empowers you with the scene." - Tom Hanks on Steven Spielberg
http://www.dailyactor.com/actors-on-acting/tom-hanks-working-steven-spielberg-mark-rylance-bridge-of-spies/
http://www.dailyactor.com/wp-content/uploads/2015/09/Tom-Hardy-Legend.jpg
Tom Hardy on Playing Twins in 'Legend,' Being Seen as a Tough Guy, and Working with Philip Seymour Hoffman
Hardy speaks about why he challenged himself to play twins, what he thinks of his tough guy image, and working with the late Philip Seymour Hoffman, who directed him on stage.
http://www.dailyactor.com/actors-on-acting/tom-hardy-playing-twins-legend/
http://www.dailyactor.com/wp-content/uploads/2015/09/Emily-Blunt-Sicario.jpg
Emily Blunt on Action Movie Roles: "I think it's important to show different layers. Nobody is just tough, nobody is just vulnerable"
Emily Blunt touches upon why she has gotten into roles with an action bent and why she thinks there aren't more action movies with female leads
http://www.dailyactor.com/actors-on-acting/emily-blunt-sicario-acting-layers/
http://www.dailyactor.com/wp-content/uploads/2015/09/Jorja-Fox-CSI.jpg
Jorja Fox on Life After 'CSI': "I've always enjoyed not knowing exactly where the road leads"
"I think you kind of have to embrace the unknown if you're an actor." - Jorja Fox
http://www.dailyactor.com/actors-on-acting/jorja-fox-life-after-csi/
http://www.dailyactor.com/wp-content/uploads/2015/09/John-Turturro-Mia-Madre.jpg
John Turturro on the Life of an Actor: "It's a rough business. I wouldn't want my kids to do it"
"I am usually very well prepared. If you're a surgeon, you've got to know what you're going to take out today." - John Turturro
http://www.dailyactor.com/actors-on-acting/john-turturro-life-of-an-actor/