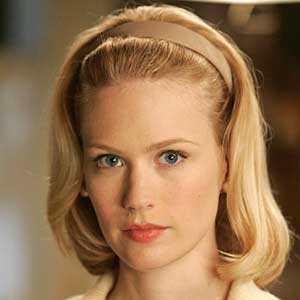 From GQ:
On her career before Mad Men: '[With modeling] You're like an object. They move you around. And I felt like, God, I'm miserable. I hate modeling," she says. "When I moved back to New York, the agency said I owed them $20,000. So I left the agency and then—very quickly—decided to go to L.A. and try acting. Without any training."
It did not go well. Jones would go to auditions and just emote, channeling whatever feelings she could muster from her real life—loneliness, anger, heartache—into the character she'd been asked to read. "I felt really vulnerable," she says. "Like, why do these people deserve to see me have these emotions for five minutes and then tell me that I'm bad at it?"
But eventually, through audition after audition, she learned not just to feel vulnerable but to play it." January has an athletic intensity to her acting, a very instinctive kind of immediacy," says Mad Men creator Matt Weiner, who wrote modeling into Betty's backstory during the show's first season. "She found a way to make Betty's lack of self-awareness so believable by bringing in this mix of hardness and childishness, which she saw Betty having—this ability to want something, and go for it in an almost childish way."
Yet even with Mad Men's success, January's feelings of vulnerability haven't entirely disappeared. Especially since there were plenty of times—both in New York, where Laura Steinberg would sometimes help her with her rent, and later, even after some successful movies in Hollywood—when it seemed that she'd have no choice but to return to South Dakota. "There have been so many moments in my life where I was just like, That's it, I'm going home," she says. "And then my agent'll be like, 'Just do this little movie; it'll be fine.' "
Not long after arriving in town, she started hanging out at Jason Segel's house, where the Judd Apatow crew was working on a pilot called North Hollywood. "We'd all get together at Jason's house to improv and write," she says. "We'd do this fake talk-show game where someone would be the host and someone would be the guest. It'd be like: You're Sharon Stone and I'm Conan O'Brien. Go!"
The show didn't get picked up, but the training proved useful for other roles. In Anger Management, most of January's scenes with her lover—Jones plays a lesbian p*** star—were improvised, often with encouragement from Adam Sandler ("Whenever there was a lull in the dialogue, Adam would be like, 'Yo, suck on her finger!' ").
A short time later, she was cast as a ditzy American flirt in Richard Curtis's ensemble Love Actually. "The minute I got on-set, I started improvising," she says, "and before long the producer takes me aside and says, 'You don't do that with Mr. Curtis's scripts.' I got all defensive and said that the script didn't sound like an American girl. The whole time I'm thinking: F***, I'm going to get fired. But Richard came in and was like, 'Well, how would you say it?' "
About Betty Draper: Jones has managed to occupy the character so seamlessly and convincingly that it's almost a career liability. "I'd never really played a mom or a wife before," she says, "and all of a sudden I'm getting all these lonely mom and wife offers. I don't want to get stuck."
But she's not too worried about it. First, the emotionally inhibited '60s housewife is such a specific role. "It's not like being on Friends or something," she says. And being identified so strongly with her character is, in a way, a testament to the quality of her work. Jones proudly tells the story of Jack Nicholson, with whom she acted in 2003's Anger Management, having watched nearly the entire first season of the show without realizing that she was Betty Draper. "That was pretty awesome," she says of getting the call from Nicholson. It was a kind of vindication, especially since not everyone in Hollywood has always been so positive.
"I don't have a lot in common with Betty," she says. "but I'm very protective of her. I just feel like she's trying really hard to make her life good, and make her marriage work, and it just seems hypocritical that when she slips up, people get mad. Because Don does it all the f****** time."
When Jones is at her best, it's raw, frightening, and most of all, seductive: the kind of performance that requires either topflight training or a lot of work. "January didn't go to acting school," says Jon Hamm. "And for someone to pull that off—someone who's just present and learning as she goes—it's impressive."
Why you should never listen to Ashton Kutcher: "The guy I was dating when I first got to L.A. was not supportive of my acting," she says. "He was like, I don't think you're going to be good at this. So—f*** you! He only has nice things to say now—if anything, I should thank him. Because the minute you tell me I can't do something, that's when I'm most motivated."
Mistake number one: doing what that skeptical boyfriend (as it turns out, a guy named Ashton Kutcher) did and doubt January Jones. Because she will be so pleased—resolutely, ruthlessly, perhaps a tad too gleefully—to prove your a** wrong.