Emilie de Ravin on Playing 3 Versions of the Same Person in 'Once Upon a Time'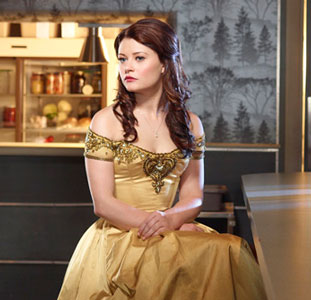 Most actresses are cast in a TV series to play one part.  On the hit ABC fairytale drama Once Upon a Time, actors often have to portray two versions of the same character—one in present day Storybrooke, Maine and the other from the enchanted Fairytale land. 
Emilie de Ravin (Lost) has the difficult task of playing beloved Belle from Beauty and the Beast and the modern-day, amnesia-riddled bad-girl Lacey.
"It's very challenging," de Ravin admitted in an interview with The Wall Street Journal.  "There's Belle the pure who doesn't remember anything.  There's Belle in Fairytale land.  And there's Lacey.
"The wardrobe, hair, and makeup people made me look different—not prosthetic wise!  I'm really sad too at the same time.  It was all done to hurt Mr. Gold, so that he doesn't know.  His new goal is to get me to fall in love with him as Lacey, and bring me back to Belle.  It's not as easy as it sounds.  It's fun because it's challenging.  It would be boring if there were no challenges, especially if you're going to be on a show for a long time."
Once Upon a Time airs on ABC, Sundays at 8 p.m.
http://www.dailyactor.com/wp-content/uploads/2015/09/Tom-Hardy-Legend.jpg
Tom Hardy on Playing Twins in 'Legend,' Being Seen as a Tough Guy, and Working with Philip Seymour Hoffman
Hardy speaks about why he challenged himself to play twins, what he thinks of his tough guy image, and working with the late Philip Seymour Hoffman, who directed him on stage.
http://www.dailyactor.com/actors-on-acting/tom-hardy-playing-twins-legend/
http://www.dailyactor.com/wp-content/uploads/2015/09/Emily-Blunt-Sicario.jpg
Emily Blunt on Action Movie Roles: "I think it's important to show different layers. Nobody is just tough, nobody is just vulnerable"
Emily Blunt touches upon why she has gotten into roles with an action bent and why she thinks there aren't more action movies with female leads
http://www.dailyactor.com/actors-on-acting/emily-blunt-sicario-acting-layers/
http://www.dailyactor.com/wp-content/uploads/2015/09/Jorja-Fox-CSI.jpg
Jorja Fox on Life After 'CSI': "I've always enjoyed not knowing exactly where the road leads"
"I think you kind of have to embrace the unknown if you're an actor." - Jorja Fox
http://www.dailyactor.com/actors-on-acting/jorja-fox-life-after-csi/
http://www.dailyactor.com/wp-content/uploads/2015/09/John-Turturro-Mia-Madre.jpg
John Turturro on the Life of an Actor: "It's a rough business. I wouldn't want my kids to do it"
"I am usually very well prepared. If you're a surgeon, you've got to know what you're going to take out today." - John Turturro
http://www.dailyactor.com/actors-on-acting/john-turturro-life-of-an-actor/
http://www.dailyactor.com/wp-content/uploads/2015/09/Matt-Damon-The-Martian.jpg
Matt Damon's Controversial Comments on Actors Keeping Their Real Lives a Mystery
"I think you're a better actor the less people know about you period. And sexuality is a huge part of that." - Matt Damon
http://www.dailyactor.com/actors-on-acting/matt-damon-actors-keeping-their-real-lives-a-mystery/