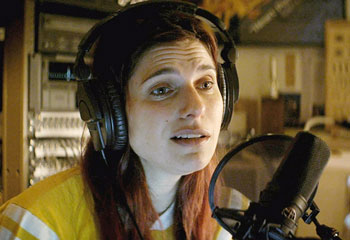 Since she was a little girl, Lake Bell has been obsessed with voice acting.  Her new movie, In a World, focuses on the voice-over industry.  She not only stars in the film, but also directed it.
"Your voice is such a massive tool when you are acting.  Obviously, your body and your voice are what depict a character, so it's one half of the mechanism," she said in an interview with Yahoo! News.  "It's inherently very important to me as an actor.  The sexy baby vocal virus that's pandemic, that's infecting a generation of young women.  I think really affects women and actresses trying to get jobs.  If there was more self-awareness with their voices, perhaps women wouldn't pigeonhole themselves into sounding less than."
Before landing roles in TV shows like Boston Legal and Children's Hospital, Lake landed in Hollywood in 2002 hoping to find work as a voice actor.  "I thought that I wouldn't need to be a waitress because I thought I would go rolling in with my demo CD that I made in drama school in England of me doing all these dialects," she said.  "And I could roll into the voice-over community and just start being a voice-over star because I had heard a rumor that you made a lot of money. 
"I did get an agent for it, but you can't just roll into some industry and think you're going to conquer it.  I was a total naïve idiot.  Lo and behold, I became a waitress like everybody else.  I did not get any jobs until more recently."
After receiving "a couple [voice-over jobs] here and there," Bell is hoping that she'll be taken seriously in the industry after the film premieres.  Now that Bell is a respected actress and director, she has many opportunities open to her.
"Now I feel totally at home writing and directing.  I feel very satisfied and inspired by the process, so I will do that for the rest of my life," she said.  "But voice-over, I don't know, I have a soft spot for it.  So I will always continue to audition for voice-over jobs, probably for the rest of my days."
"Obviously, the dream is representing products and being an omniscient voice that's not even attached to a character: the idea that your voice is coming from space.  Often that is not a female voice.  Hopefully, I can break that."
In a World is currently in theaters.