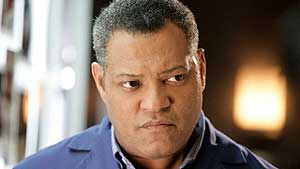 Emmy award winning actor Laurence Fishburne announced he will be leaving CSI after two and a half seasons. According to The Hollywood Reporter, Fishburne decided not to renew his deal to act in the drama.
Fishburne was the replacement for the much loved William Peterson, who left the show in 2008. The Once top rated show has seen a drop in ratings since Peterson's departure. This last month, the show hit its lowest rated season finale ever at a mere 11.4 million viewers.
CBS has recently announced that it will move CSI's time slot from Thursday 9pm to Wednesday at 10pm where it will now compete against Law And Order: SVU. CSI's 9pm slot will be replaced with J.J Abrams' new drama called Person of Interest.
Note to CSI fans:  with Abrams' taking over the slot let's hope CSI doesn't get LOST in the shuffle,  J.J. Abrams' certainly has had luck with numbers!