David Eigenberg talks 'Chicago Fire' and Getting a "Little Doughy" after 'Sex and the City'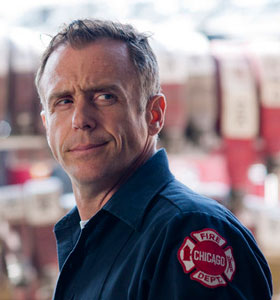 David Eigenberg knows all about being pigeonholed after becoming well-known for a specific role.  After all, he played Miranda's longtime love, Steve Brady, on Sex and the City.
"[When I first started in the business', my acting teacher used to always call me Steve.  He'd say, 'I don't know why I do that.'  It became my biggest role," Eigenberg noted in an interview with The Daily Herald.  "I love Sex and the City because it brought humor to sexual situations."
But now Eigenberg is ready to move past his earlier fame by starring in the new NBC drama series, Chicago Fire.  "I love this job," he said.  "It's everything for me.  It's physically demanding, it's emotionally demanding, and you get a lot of banter."
Eigenberg plays Christopher Hermann, a longtime Chicago firefighter, so the actor had to put in a little extra time at the gym in preparation for shooting.  "I got a little doughy the last few years," the 48-year-old said.  "I've always tried to stay fit, but I'm a little guy.  I'm 5-foot-7.  I'm like a waif compared to [the other actors and real firefighters who were extras.]"
No matter which role Eigenberg takes on, he's happy where he's at.  "I've had an amazing career," he said.  "I never pushed the envelope of wanting people to know me, or be on the covers of magazines.  I just want to enjoy what I'm doing.  I'm hoping Chicago Fire sticks around.  I would love to ride this as long as I could."
Chicago Fire will premiere October 10 at 10 p.m. on NBC.
http://www.dailyactor.com/wp-content/uploads/2015/10/Bridge-of-Spies-Tom-Hanks-Mark-Rylance.jpg
Tom Hanks on Working with Steven Spielberg and Mark Rylance in 'Bridge of Spies'
"Steven does this incredible thing when he casts you: He empowers you with the scene." - Tom Hanks on Steven Spielberg
http://www.dailyactor.com/actors-on-acting/tom-hanks-working-steven-spielberg-mark-rylance-bridge-of-spies/
http://www.dailyactor.com/wp-content/uploads/2015/09/Tom-Hardy-Legend.jpg
Tom Hardy on Playing Twins in 'Legend,' Being Seen as a Tough Guy, and Working with Philip Seymour Hoffman
Hardy speaks about why he challenged himself to play twins, what he thinks of his tough guy image, and working with the late Philip Seymour Hoffman, who directed him on stage.
http://www.dailyactor.com/actors-on-acting/tom-hardy-playing-twins-legend/
http://www.dailyactor.com/wp-content/uploads/2015/09/Emily-Blunt-Sicario.jpg
Emily Blunt on Action Movie Roles: "I think it's important to show different layers. Nobody is just tough, nobody is just vulnerable"
Emily Blunt touches upon why she has gotten into roles with an action bent and why she thinks there aren't more action movies with female leads
http://www.dailyactor.com/actors-on-acting/emily-blunt-sicario-acting-layers/
http://www.dailyactor.com/wp-content/uploads/2015/09/Jorja-Fox-CSI.jpg
Jorja Fox on Life After 'CSI': "I've always enjoyed not knowing exactly where the road leads"
"I think you kind of have to embrace the unknown if you're an actor." - Jorja Fox
http://www.dailyactor.com/actors-on-acting/jorja-fox-life-after-csi/
http://www.dailyactor.com/wp-content/uploads/2015/09/John-Turturro-Mia-Madre.jpg
John Turturro on the Life of an Actor: "It's a rough business. I wouldn't want my kids to do it"
"I am usually very well prepared. If you're a surgeon, you've got to know what you're going to take out today." - John Turturro
http://www.dailyactor.com/actors-on-acting/john-turturro-life-of-an-actor/