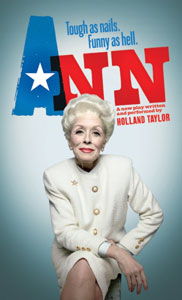 Holland Taylor is thrilled to finally have a part she can sink her teeth into.  Not that playing a mom on Two and a Half Men isn't exciting, but it's not exactly a difficult role.  With her new play, Ann, Taylor has the opportunity to portray former Texas governor, Ann Richards.
"I've always been a gun for hire," Taylor said in an interview with The New York Times.  "I've had some marvelous parts, but I'm also asked to play characters who are kind of superficial people.  Here's a chance to play somebody that would use every single dot of what I could imagine I would ever be at my very best.  It's meant the world to me."
Taylor got the idea for the play in 2006 when Richards passed away from esophageal cancer. She had only met the politician once, but was very moved when she died. "I was really genuinely and unnaturally mournful, considering I didn't know her," Taylor said.  "I thought: 'This is ridiculous.  What's the matter with you?'  After some months of this sort of mournful state, I thought: 'Why don't you do something creative?  You're an actress.  You could play her.'  One day I'm driving to work, to Two and a Half Men, and it's like boom: It's a play.  I swear to God, I pulled off the road, parked my car.  I'm not sure I even turned it off.  And for about 15 minutes I sat in a kind of aspic.  I dared not move.  The five or six organizing ideas for the play came to me in those 15 minutes."
Taylor then spent countless hours researching Richards' life, interviewing those that knew her, and reviewing more than 150 hours of tape of the governor's appearances.  "I was going after the essence of her person," the 70-year-old said.  "My goal was to capture it in such a way so the play made people feel an echo of what she made them feel.  I have felt all along that sense of something provoking me or prodding me or drawing me in—from the time I pulled off the road.  I am a vessel here."
But don't expect Taylor to leave her acting career for the life of a playwright. 
"I've never written a play before," Taylor said, "and I'll never write one again.  You can quote me."
Ann is opening at the Vivian Beaumont Theater on Broadway starting March 7.